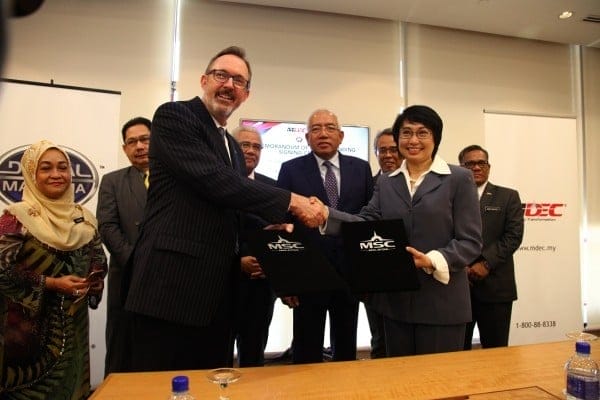 In view of the global movement towards bookless classrooms and using digital as a tool for educators, Multimedia Development Corporation and the International Society for Technology in Education today entered into a Memorandum of Understanding to jointly facilitate the development of a sustainable educational technology environment in Malaysia. In particular they will collaborate to promote excellence in learning and teaching through the innovative use of technology to drive effective leadership and transform pedagogical approaches amongst educators.
Speaking at the signing ceremony, Dato Yasmin Mahmood, Chief Executive Officer, MDeC said, "This MoU will allow Malaysian educators, be it teachers, principals or headmasters to leverage and learn from global best practices, specifically the ISTE Standards for Technology in Education. The move is very much in line with the aspirations of Digital Malaysia agenda to cultivate strong digital competencies amongst school students and prepare them as our future talent pool."
The ISTE Standards–the definitive framework for successfully implementing digital strategies to positively impact learning–is used by educators worldwide to define the new skills and pedagogical insights they need to teach, work and learn in the digital age.
"With a global network of over 100,000 educators and education leaders, ISTE is focused on changing the way learning and teaching with technology takes place as well as advancing digital age learning through meaningful tech integration. We provide substantive professional learning opportunities for educators in all roles who are undertaking transformational programs and are very proud to be given the opportunity to work with Malaysia," said Brian Lewis, Chief Executive Officer, ISTE.
"Our new collaboration with MDeC is illustrative of ISTE's commitment to supporting organizations around the globe that share our vision for transforming learning through the effective use of technology.  We look forward to working with MDeC and Malaysian leaders to share the power of digital age learning with the country's educators," said Lewis.
To kick off this collaboration, a joint-initiative to train lecturers from Institute Aminuddin Baki (IAB) as Master Trainers on the ISTE Standards for Administrators and Coaches is being pursued. These Master Trainers will in turn train headmasters and principals nationwide as they work through the complexities of launching, implementing and refining digital learning programs.
"As part of our Malaysian Education Blueprint (2013-2025), we intend to provide equal access to quality education of an international standard, as well as leveraging ICT for this purpose. In this regard, the role of educators – both teachers and school leaders alike – are critical in achieving this aspiration. Therefore, I see this MoU between MDEC and ISTE to be an important step forward in preparing our educators to meet global competency standards," said Dato Seri Madzhir, Minister of Education, Malaysia.
Earlier this year, the Ministry of Education (MoE) and MDeC piloted Digital Tech @ Schools, a program designed to equip students with advanced digital competencies via the convergence of three key areas – Computer Science, Information Technology and Digital Literacy. The program focuses on integrating digital competency and computational thinking into primary and secondary schools.
The MoU was signed by Dato Yasmin Mahmood and Mr. Brian Lewis, witnessed by the Honourable Dato Seri Madzhir.