When it comes to wireless headphones, Jabra is not new to the game. Jabra recently launched its Jabra Evolve2 75 and these headphones come in two versions. One is focused on Microsoft Teams and the other is for Unified Communications (UC).
The Jabra Evolve2 75 is very similar to its predecessor, the Jabra Evolve2 65, but with a few significant improvements. The most recent version includes ANC (active noise cancellation) as well as a new and improved boom microphone that is shorter and can even be flipped out of the way if necessary.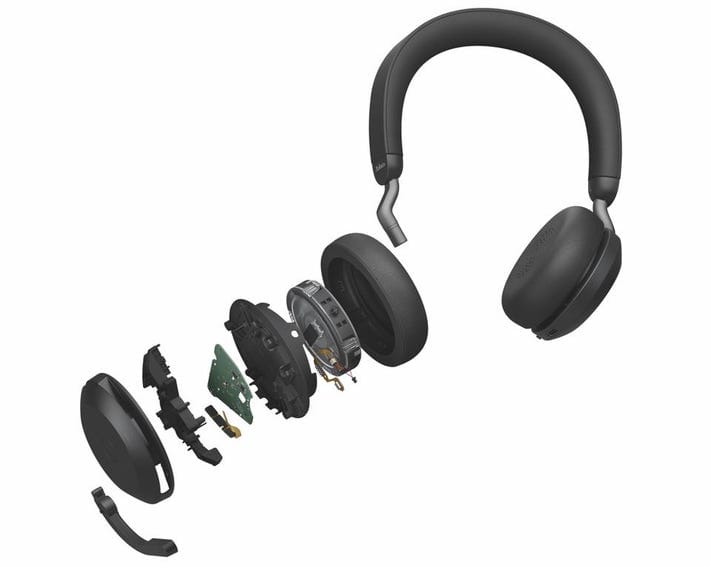 Comfort is essential when working from home for long periods of time, taking calls, or participating in video chats. You could spend most of the day wearing a headset. Jabra engineered the Evolve2 75 to have a superior ergonomic fit with on-the-ear cushions made of two different types of foam to increase comfort. The first layer of foam is designed to block out as much noise as possible, while the second is softer and less dense for a more comfortable fit.
The new cushion design also improves ventilation and pressure on the ears. The headband has also been redesigned with more curvature and additional padding to better hold the headset in place and improve the overall effectiveness of the headset's active noise cancellation. And the designers succeeded. The Evolve2 75 is not only safer for your head, but it also offers a much better level of passive noise cancellation.
In addition to Advanced Active Noice Cancellation (ANC), the Evolve2 75 has an adjustable "HearThrough" feature, which can be set to pass a certain amount of ambient sound through. The Evolve2 75 also includes a MySound feature. This feature can be accessed using the Jabra Sound+ mobile app. After determining your hearing level, you can adjust the headset according to your hearing profile.
For business users, Jabra has developed the Xpress software. This allows IT departments to easily deploy headsets for employees in the office, field or home, and can also be used to update firmware and remotely manage headset settings. The headset provides a wireless operating range of up to 30 meters with a stable signal and dual connectivity when in use. The built-in battery provides up to 24 hours of talk time and 36 hours of playback, which is very useful when using the headset to listen to music or watch movies. The headset is charged via a USBC cable or using the fast-charging feature of the optional charging dock.