For today's working adult, it can be difficult to concentrate when people are talking out loud, or if you have a shrill office phone driving you nuts. Jabra has a solution for those of us who want peace and quiet in the Jabra Evolve 80.
Simplicity is Best
The Jabra Evolve 80 has a simple design, with soft leather cushioning below the plastic headband and for the ear cups. In the ear cups are not only the sound drivers, but also components that create the noise cancelling effect. The electronics alone give the headset considerable weight, but the headband helps alleviate most of that. It's a pretty comfortable headset too, as the soft leather keeps it from feeling like a clamp.
Full-Featured
As the flagship product, the Evolve 80 has the full set of features except wireless and NFC connection. It has both active and passive noise cancelling and the new Jabra Intelligent Call Transfer feature, all handy for people who need to make or receive calls often.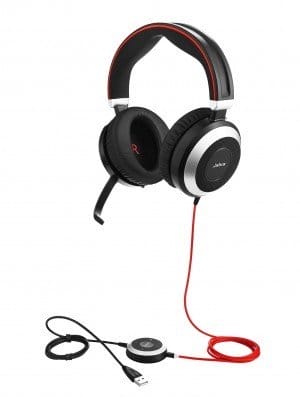 Plug and Play
I like that this doesn't need any configuration, it just works. Just connect the control unit to a PC via USB then plug the headset to the unit, and voila! It's specially configured for Skype, making it work well with the Intelligent Call Transfer feature. The best thing about the headset is the Do Not Disturb button. Just press it and two red rings on both sides of the ear cups light out, alerting co-workers to avoid disturbing you. Genius.
Crystal Clear
As expected, using it in the office is great as the active noise cancellation (ANC) helps drown out most audio distractions. However, as with all headphones with ANC, the ANC's frequency can make your ear drums feel some pressure when there's no audio to neutralise it. Using it with Skype is amazing and my friends have commented how they could hear me loud and clear. I even used it in games, and in pure voice quality it beats even dedicated gaming headsets hands down.
Made for Voice
After using it, I feel that I can really recommend the Jabra Evolve 80. Sure, the price tag is hefty, but if good voice quality for VoiP on the PC is what you're looking for, then you cant go wrong with this.
Specs
Type Closed-back circumaural
Driver 40mm Dynamic PureSound speakers (Hi-fi)
Frequency Range 20Hz – 20kHz
Noise Reduction Up to 98% cancellation using Hybrid Active Noise Cancellation
Battery Life 24 hours
Cable Length
Controller to PC: 90 mm
Headset to 3.5mm jack: 1.2 m
Value 7
Performance 10
Features 9
Design 8
Usability 9
Total: 8.6
Verdict: The headset you want for VoiP.
Byline: Matthew Yap