ASUS Vice President Eric Chen recently on August 31st, 2016 took the stage at the Zenvolution event at IFA 2016 in Berlin to unveil ZenWatch 3, the latest model in the ZenWatch family of Android Wear-powered wearable devices.
The ASUS ZenWatch 3 is a stylish and customizable wearable device powered by Android Wear that provides wearers with timely information at a glance, and functions as a full-featured activity tracker to help wearers stay motivated and meet their fitness goals. Meticulously crafted in the tradition of fine watchmaking, ZenWatch 3 is the first ZenWatch model with a gorgeous round design.
Complementing its physical design, ZenWatch 3 comes with more than 50 software watch faces that can be changed using the ZenWatch Manager smartphone app, letting wearers easily customize their watch to fit any style, mood, or occasion. Many of these watch faces support customizable widgets that display useful information, such as current weather, daily step counts, and missed call notifications. For an even more personal ZenWatch 3 experience, wearers can create their own unique watch faces with the FaceDesigner smartphone app.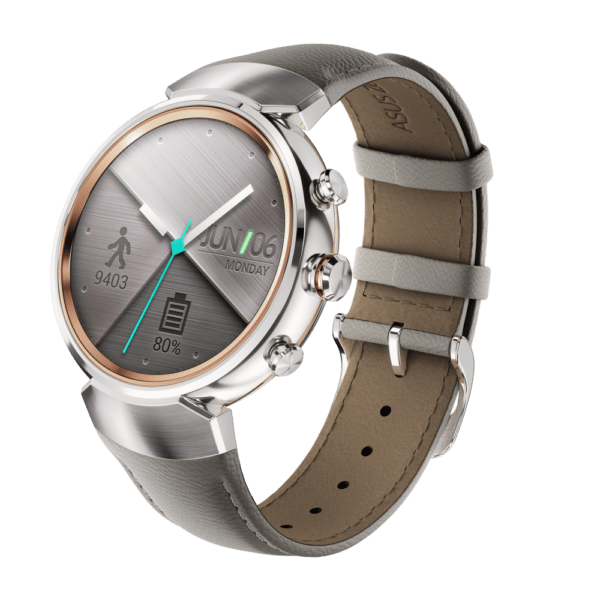 ASUS ZenWatch 3 features the all-new ZenFit activity tracking app that automatically counts wearers' steps throughout the day with industry-leading 95 percent accuracy and provides reminders to stand and move after periods of inactivity. ZenFit works together with the companion smartphone app to provide helpful and easy-to-understand summaries and graphs for a complete picture of physical activity.
ASUS ZenWatch 3 provides long battery life of up to two days. It features exclusive HyperCharge technology that provides industry-leading charge times — just 15 minutes to reach a 60 percent charge — and a convenient magnetic charging connector that snaps into place automatically. An optional battery pack is also available that provides 40 percent more battery life.