HP Malaysia today introduced it's PC and print innovations, bringing lightness in the new era for its business users. It's nice to see a company recognizing the need for something that offers both practicality and performance.
HP's aim of lightening work experiences is realised in the HP Elite Dragonfly laptop, which is the worlds lightest compact business convertible, and the HP Neverstop Laser, the world's first toner-tank printer. Putting the modern SMBs and enterprise workforce firmly in its crosshairs, HP seeks to lighten workloads and the load on the planet through meaningful, sustainable innovation without compromising quality or performance.
Adding to it's HP Spectre x360, which is now 13% smaller than the previous generation and features an industry leading 90% screen to body ratio, the HP Elite Dragonfly is a sub 1kg powerful business convertible that offers up to 24.5 hours of battery life and a screen to body ratio of 86%. Under the hood, you'll find a 8th Gen Intel Core vPro processor and a 4X4 LTE antenna, making it the first business convertible to come equipped with one. The HP Elite Dragonfly also comes with some pretty nifty software such as HP WorkWell, which is a personal wellbeing software, HP Sure Sense, which is a security software that defends against malware attacks and HP Sure Recover, which gets users back up and running anytime, anywhere.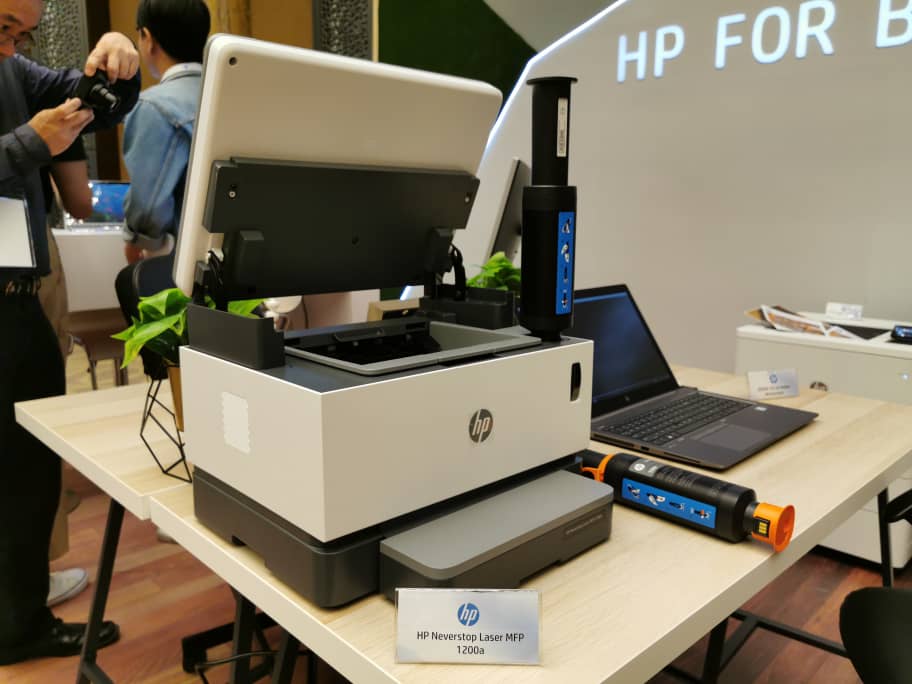 HP also introduced its Neverstop Laser Printer, which is the worlds first toner tank that features the HP reload kit that can be reloaded in just 15 seconds, mess and hassle free and its HP Smart Tank, which provides reliable high-speed printing, immediately setting it apart from others in its class.
Printing up to 10 times more pages, with up to 5000 pages included in the box, the HP Neverstop laser printer offers the easiest mobile scanning and printing with a best in class mobile smart app. Top that off with up to 80% cost savings and you just know that this printer is a must have for your office.
The HP Smart Tank on the other hand is designed for the busy home office. Entrepreneurs can be more efficient with its time saving tools while benefitting from its outstanding print quality.
The HP Elite dragonfly is available now starting from RM6500 whereas the HP Spectre x360 starts from RM5499. As for the printers, the HP Neverstop Laser Printer is expected to be available from the end of December onward, priced at RM1249 while the HP Smart Tank is available now and priced at RM729.