Father's Day is not just about showing Dad how much he means to you. Show dad what it means to chill, to work, to live his best life in style, in the midst of everything.
This year, give him the gift of sound to complement his professional and personal self. For the Dad who does it all, from tinkering around the house to chilling on the sofa, to cooking up a feast, Jabra recommends the latest in true wireless earbuds, the Jabra Elite 85t.
If your Dad is the type to just lay back listening to timeless classics, the Jabra Elite 85t is an ideal choice. These true wireless earbuds produce big sound with an emphasis on deep bass, so he can fully enjoy his choice of content. We like to think he's never heard his music quite like this before.
We're sure Dad cares about details, and nothing says details like Jabra scanning over 62,000 ears to arrive at the most ergonomic, compact design for this model. The result for him will be a snug fit every time – easy like Sunday morning, as they say.
If he wants to focus, just one button tap brings top-notch, fully adjustable active noise-cancellation with Jabra's Advanced ANCTM feature. That means he can relive his younger years uninterrupted by outside noise. The ANC removes noise both from the 'outside' and 'inside' of the user. 'Outside' means background sound for example, from the house such as dishes clanging or appliances going off and neighbourhood noise like passing cars or children playing. And 'inside' meaning the user's own bodily sounds such as chewing, breathing, swallowing and even their heartbeat, thanks to the combination of interior and exterior mics.
Or, he can choose how much of the outside world to let in, using HearThrough. No more taking one earbud off and going "Huh, what?" to every interruption.
So dad likes to be in control. Here he truly can, with the Sound+ App, he can personalize every bit of this experience, from what he hears and how music sounds, to the way the buttons work, with no one else having a say.
Dad can sound good on the phone too – 6 mics mean the Elite 85t also delivers outstanding call quality for his next con-call or family catch-up this MCO. These earbuds boast up to 5.5 hours of battery life with ANC on, with up to 25 hours in the compact charging case, so he can keep his mind on what matters.
The lockdown we're in is no fun and a bummer for dad. So cheer him up with a pair of earbuds he can use in every part of his life, and maybe even keep him feeling his young self again this Father's Day. Shop here at Jabra's Official Shopee & Lazada stores.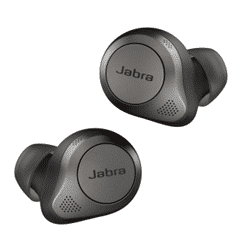 Jabra Elite 85t key features
Compact design, secure seal and comfortable fit
6-microphone call technology for superior calls
Dedicated 4-microphone ANC for removing noise
12mm speakers for big sound and powerful bass
Semi-open design with natural hear through
IPX4-rated protection from water
2-year extended warranty* against dust and water*
Up to 25 hours battery life on the go with ANC on
Up to 31 hours battery life on the go with ANC off
Qi-certified for wireless charging
One-touch access to Alexa, Siri®, Google AssistantTM
Individualized sound in Jabra MySound App
Custom equalizer and personalised configurations in the Sound+ App
1 for 1 Instant Replacement Warranty
Committed to providing a fuss-free journey when it comes to warranty claims,
all Jabra products are entitled to a 2-year warranty claim under this program.
*Registration required with the Jabra Sound+ app