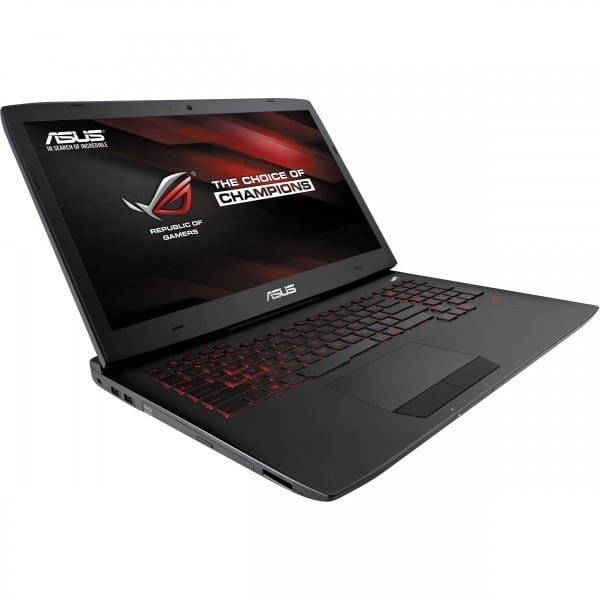 This month's tested pages should be interesting for many of our readers. Not only do we have a handful of cool new gaming peripherals to review, we've also been sent one of Asus's fancy new ROG G751JT laptop (this is the version with the GTX970 GPU). I already wrote my first impressions of the machine last issue, but now that I've had the chance to use it for some time, I can provide a more in-depth impression of what I thought of the G751GT.
A class of its own
The laptop wasn't the slimmest machine around since it needs to house a 17.3-in display, but the great thing was that it maintained the solid build that Asus laptops are known for. I like the all black design with its red accents (same one used on all G751 models), especially the fan vents that gave the G751JT a very elegant look, as well as the matte body. Unlike the usual metal surface we're used to seeing, this doesn't attract as many fingerprints and stands in contrast to the glossy crowd of other laptop PCs out there.
Not quite portable
A machine that size and with its solid build has a predictable drawback: weight. At 4.8kg it's even heavier than the MSI GT80 Titan, but doesn't pack anywhere near as much power (GTX980 SLi vs GTX970). It's not the kind of PC that commuters want to carry, though it will probably make a very good desktop replacement. On the flipside, the cooling vents on it were really good. It doesn't make much noise even on full load and won't burn laps or palms, definitely a big plus there.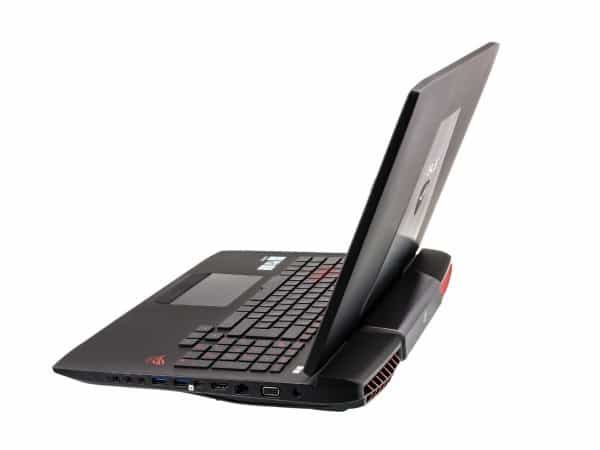 It scores another point with its anti-glare matte surface, which really helped with preventing reflections. 
Unusual Choice
Somewhat unusual for a gaming laptop, Asus decided to use an IPS panel for the ROG G751JT. That meant inferior refresh rate and response time, which was evident when I was playing The Witcher 3. Those into FPS or action games will likely face the same issue, but otherwise the excellent display of this laptop's IPS panel will impress many. Image quality was sharp and the colours were vivid, fantastic for playing open world games with large environments. It scores another point with its anti-glare matte surface, which really helped with preventing reflections.
Multi-display setup
Speaking of display, since we had so many monitors in our office last month, I hooked the G751JT to two other monitors for a triple display setup. The machine could output to a 4K display, or an ultra-wide display, for a better visual experience when gaming. In practice, of course, the 4K display won't get anything more than 30 fps. But for those who like racing games or flight simulators, the capability for a triple display setup is something to note.
Barely a whistle
The G751JT probably shouldn't be a portable companion, but with how little noise it made I believe that some people might be tempted to bring it around anyway. The dual-copper heat sinks and large rear fans give the vibe of a sport car's fancy exhaust pipe, though it wasn't anywhere near as loud as I expected it to be, even when running on full load. We don't have the equipment to measure decibels, but it certainly wouldn't cause an entire café to stare at you.
Up to Spec
On performance, check out 3DMark scores. Overall, the G751JT performed as expected. It remains cool throughout thanks to the efficient cooling solution, can play most games as long as the settings aren't on ultra, and has a great keyboard to go with it. Gamers would definitely be satisfied with it, especially those who can pay its asking price.
Better Value than most
The Asus ROG G751JT edition may not be as powerful as its JY counterpart, but it has the same design, equally handy features, a fantastic display and keyboard. I certainly wouldn't call it inferior, since it's a good choice for those without extreme requirements. It's more affordable than a lot of GTX970 based gaming laptops out there and has a 17.3-inch screen as well. So for those who are looking out for a machine with such specs, I highly recommend giving this a closer look.
---
Byline: by matthew yap
Price RM5,xxx
Specs
Dimensions 416 x 318 x 20~53 mm
Weight 4.8 kg
Chipset Intel HM87 Express Chipset
CPU Intel Core i7 4710HQ 2.5 GHz
GPU NVIDIA GeForce GTX970M with 3GB GDDR5
RAM 8GB
Display 17.3-inch, 1920×1080 anti-glare IPS
Storage 256GB Kingston SSD + 1TB HDD
Connectivity Wireless 802.11a/b/g/n/ac, 10/100/1000/Gigabits Base T, Bluetooth 4.0
I/O 1 x Microphone-in, 1 x Headphone-out, 1 x VGA, 4 x USB 3.0, 1 x Ethernet LAN, 1 x HDMI, 1 x Thunderbolt, 1 x SD card reader, Super-Multi DVD
Benchmarks
3DMark Firestrike 6766
3DMark Firestrike Extreme 3472
3DMark Firestrike Ultra 1754
Value 7
Performance 9
Features 10
Design 10
Usability 9
Total 9
Verdict Fantastic choice for those without luxurious needs, though not necessarily an affordable one.