ZTE just redefined flip phones – instead of having a screen and a keypad – how about 2 screens?
ZTE pushed out the Axon M, a foldable, dual-screen smartphone available – sadly – only in US with AT&T, and will be made available to China, Europe and Japan.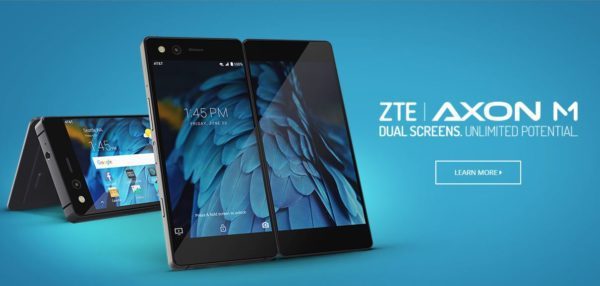 The design of this phone makes full use of the native multitasking capability on Android N. There are several modes available:
Dual Mode: With Dual mode, you can run two things at once – maybe watch videos on one screen, while ordering a pizza online on the other.
Extended Mode: Stream, email and play games on a full 6.75-inch Full HD display. Extended mode basically uses the both screen as one when opened up.
Mirror Mode: Fold the device in Mirror mode and place it on a table for easy viewing from two separate sides. So you can share content or watch the same video while sat across from another person. Presentations on phones perhaps?
Traditional Mode: Folded up, the smarphone still works as a normal single screen phone too.
According to The Verge, the phone has a 5.2-inch, 1080p panel on both sides, powerred by Qualcomm Snapdragon 821 processor, 4GB of RAM, and a 20-megapixel camera. It comes with Gorilla Glass 5 on each display, fitted with a 3,180mAh battery. ZTE says that Android's default split-screen features means many of the apps should just work on the dual-screen, although they made sure the "top 100" Android apps work on the phone. In the "extended" mode, the tablet version of the app is presented (if there is one).