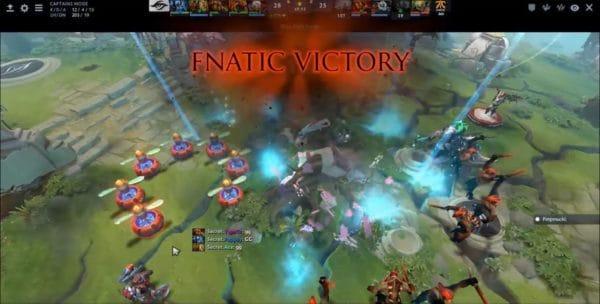 An upset that nobody saw coming, Fnatic pulls out an unexpected victory over tournament favourites Team Secret to book their spot in the semi-finals of the ESL One Katowice 2018 playoffs. Fnatic guarantees themselves a top four finish, with US$80,000 and 75 Dota Pro Circuit (DPC) points at the very least.
While the odds were definitely stacked against them, the only Southeast Asian contender at the first ever Dota 2 Major in Poland did not back down from the challenge. Game one saw Fnatic pull out a hard split-push game with the likes of Naga Siren, Beastmaster and Shadow Shaman. This further backs up the Invoker pick for one of Southeast Asia's brightest mid players, Abed "Abed" Yusop.
This was a direct counter to Secret's Tinker pick for their own mid player, Yeik "MidOne" Nai Zheng. What followed was 40-odd minutes of intense back-and-forth action between the two teams. All this culminated into Fnatic's final push with Djardel "DJ" Mampusti on his Shadow Shaman with his Serpent Wards off cooldown, and having a Refresher Shard as well as a Refresher Orb in his inventory.
Game two, however was the direct opposite of game one as Secret steamrolled their way past Fnatic. Secret's carry Marcus "Ace" Hoelgaard was particularly instrumental in game two on his Ursa, who went 17-0-15 on his Kills/Deaths/Assists (KDA) stats of the game.
As game three was underway, it was getting hard to tell as to who will take the win and send themselves to the semi-finals of the playoffs. On the one hand, Secret drafted a very greedy line-up, consisting of Dragon Knight, Invoker and Lone Druid. On the other hand, Fnatic went for an unorthodox Ember Spirit pick, something that isn't very common these days.
Fnatic were the first team to claim their first set of barracks, taking away the bottom half of Secret's base. Unfortunately, after some shoddy teamfights, Fnatic found themselves on the back foot and Secret were knocking on the front door of their middle lane, eventually taking their middle barracks.
What Secret didn't realise was that all this time, the Dire creeps were slowly chipping away at their base, eventually losing their Tier 4 Towers and leaving the Throne exposed. This was followed up by the clutchest of plays from Saahil "UNiVeRsE" Arora on his Underlord. Using his ultimate Dark Rift, he brings both the Clockwerk and Ember Spirit into the heart of Secret's base and seconds later, the throne falls.