Another day, another incredible E3 press conference. This time round, we have the PC Gaming Show, which brought us a multitude of games. Indeed, there's way too many of them, but here's a quick roundup of the biggest and most hyped games featured.
HITMAN 2
The followup to the hit 2016 reboot of the series, we already knew about HITMAN 2 a few days ago. At the PC Gaming Show though, we did learn a little bit more, such as the ability to kill using fish as weapons. There's also a bit of inspiration from Assassin's Creed here, with players able to hide from enemies by blending into the crowd. HITMAN 2 also sees a picture-in-picture mode to keep an eye on other sections of the map you're in.
It will be out on November 13th. You can pre-order on Steam by clicking here.
Just Cause 4
Another triple-A game featured in the PC Gaming Show was the action-packed Just Cause 4. Similar to HITMAN 2, we knew about this game prior to E3 mainly cause of a leak on Steam. Just Cause 4 has a new engine too, giving it's already good physics a big boost when playing. Rest assured there's nothing quite like the chaos of Just Cause games to really test a physics engine.
Check out the in-game trailer for Just Cause 4 below:
Maneater
Alex Quick, the brains behind Killing Floor, is back with another game. Maneater is an open world role-playing game where you play as a Bull Shark in the open ocean. Yes, you read that right: you're role playing as a shark. Funnily enough, this isn't Quick's first time round dealing with the fishes; he was also the head developer of Depth, another sea-based game featuring a man eating shark versus a group of deep sea divers.
You can watch the trailer for Maneater below:
Maverick: Proving Grounds
Yes, that's right, another battle royale game. Maverick: Proving Grounds had already been making waves before this thanks to it's supposed 400-player battle royale mode, but at the PC Gaming Show, we've been given a little extra. They claim that there's going to be a 1000-player battle royale mode in Maverick: Proving Grounds! Personally, I doubted their ability to even have servers for 400, let alone 1000 players, but it's definitely something to look forward to if you're a fan of the genre.
Here's the trailer for Maverick: Proving Grounds:
This wasn't the only battle royale games on the show too. Rapture Rejects and Realm Royale were also featured. I don't know about you but I'm quite tired of these battleground games being churning out.
Yakuza 0/Yakuza Kiwami
SEGA's classic series is finally coming to PC. They announced during the PC Gaming Show that Yakuza 0 and Yakuza Kiwami are set to be ported to PC and will be made available on Steam. In case you're not too familiar with 0 and Kiwami, Yakuza 0 is the prequel/origin story for the whole Yakuza series while Yakuza Kiwami is essentially a remaster of the original Yakuza game.
Currently, Yakuza 0 and Yakuza Kiwami have Steam listings up already, available by clicking here and here respectively. However, only Yakuza 0 can be pre-ordered and has a release date of August 2. Preordering Yakuza 0 also gets you some extra content, which you can see below: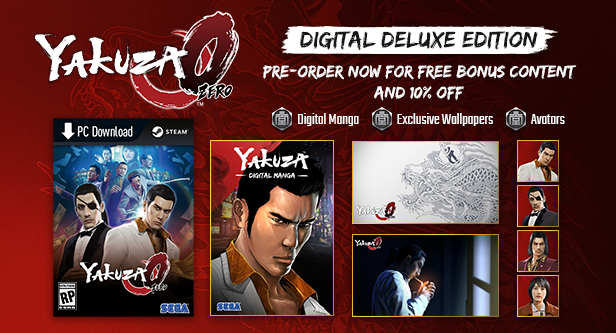 Of course, there's a lot more games showed but we can't cover them all. You can watch the full PC Gaming Show below: