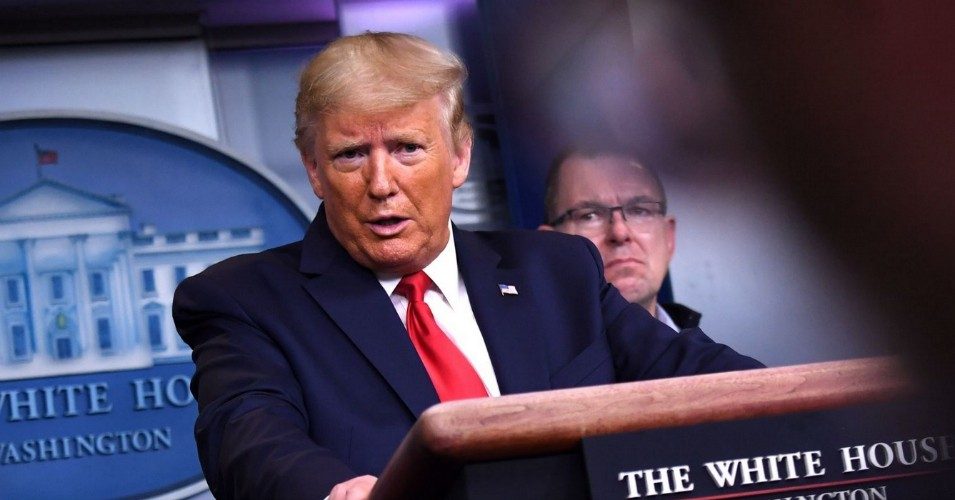 One of the most peculiar things about Donald Trump's tour of the United States is the fact that he's not been seen donning a face mask at any of the states he's visited thus far. With a global pandemic on the loose, you'd think that wearing a mask is pretty elementary. Not for Donald Trump though.
As the US president prepares to head to Michigan for his tour of the Ford Motor Co Factory on Thursday, many are calling for Trump to heed the policies put in place by his own government. Speaking just a day before his visit, Michigan's attorney general said that President Donald Trump has a "legal responsibility" under state law to wear a mask.
Attorney General Dana Nessel even went as far as to pen an open letter to the president imploring him to abide by the precautionary measure, writing "I ask that while you are on tour you respect the great efforts of the men and women at Ford — and across this state — by wearing a facial covering."
The best part about all this is that when the president was asked if he would be wearing a mask for his visit to the factory, he replied with a "I don't know." before elaborating "It depends. In certain areas I would. So, we'll see. Where it's appropriate, I will."
That's great and all, except the mask requirement is not just the policy of Ford, but a law in the state of Michigan. It's a shame to see that something as simple as putting on a mask is so hard for Trump.
Will putting on a mask be seen as a sign that the coronavirus is in fact more dangerous than he's played it out to be? Probably, but that's not necessarily a bad thing because there's been 1,602,132 people who have tested positive for the virus, with almost 100,000 dead. People should be worried.
Trump however doesn't want them to be. Nope, he wants to be perceived as a strong, calm leader who's got the pandemic under control. He wants to show that he's not worried about the pandemic, which is why he's refusing to put on that mask.
Part of the reason things have gotten as bad as they have over in the US is because of this; Donald Trump's misguided sense of invulnerability towards the virus. You have to give it to him though, at least he practices what he preaches.
But at what cost? The lives of thousands of Americans? All of this, just to be reelected for a second term. Madness.