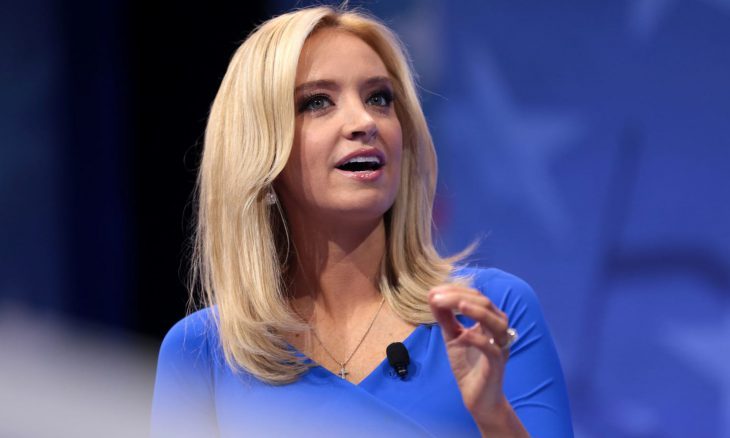 In yet another reshuffle of the West Wing staff, president Trump has ousted White House press secretary Stephanie Grisham, who incidentally has never made a single press briefing in her 288 days in the position. Yup. Grisham is more famous for constantly appearing on Fox News than actually doing her job, and without ever giving a briefing, she's now Melania Trump's chief of staff.
Her replacement is none other than Kayleigh McEnany, the Trump 2020 campaign's press secretary and high-profile Republican communicator. Now, it should come as no surprise that McEnany has been one of the foremost pro Trump commentators on TV. She would quite literally defend the president and his policies, regardless of whatever they may be.
That being said, she also happens to be quite delusional. In the radio and television appearances she made in February and March, she has repeatedly downplayed the threat of the coronavirus and even went as far as to say that the Democrats "were rooting for coronavirus."
Appearing on Fox Business back in February, McEnany said because of travel policies enacted by the President, coronavirus would not  come to the United States. Her full statement read:
"This President will always put America first," she said. "He will always protect American citizens. We will not see diseases like the coronavirus come here. We will not see terrorism come here. And isn't that refreshing when contrasting it with the awful presidency of President Obama?"
Hahahahahahahaha. Yes, she actually said that on live TV. She then went on the same show a day later and defended Trump again, saying "The President's taking control, making sure we're safe from the coronavirus, and he's doing everything right."
Fast forward a month or so later and the US just happens to be the country with the most coronavirus infections, with 422,234 positive cases, 14,451 deaths and 22,187 recoveries. What was it she said about the coronavirus not coming to America again?
She also took a shot at democrats for their criticism of the White House's response to the coronavirus.
Speaking to Fox News in late February, she said "What is so sick to me is that what is good for America, rather what is bad for America, is good for Democrats," .
"It's incredible that they think this way," she said. "They root against the stock market. They root for this to take hold. They have a demented dream of taking down President Trump. It doesn't matter how many Americans they destroy in order to get there." she added.
I'm not much of a political commentator, but she's making it really easy for the media to sh*t on her. It'll be interesting to see if she brings back the tradition of holding a White House briefing. Perhaps, she'll take over President Trump's daily coronavirus briefings? Who knows.
What we do know is that Karleigh McEnany is Donald Trump approved because she's just as delusional as he is.