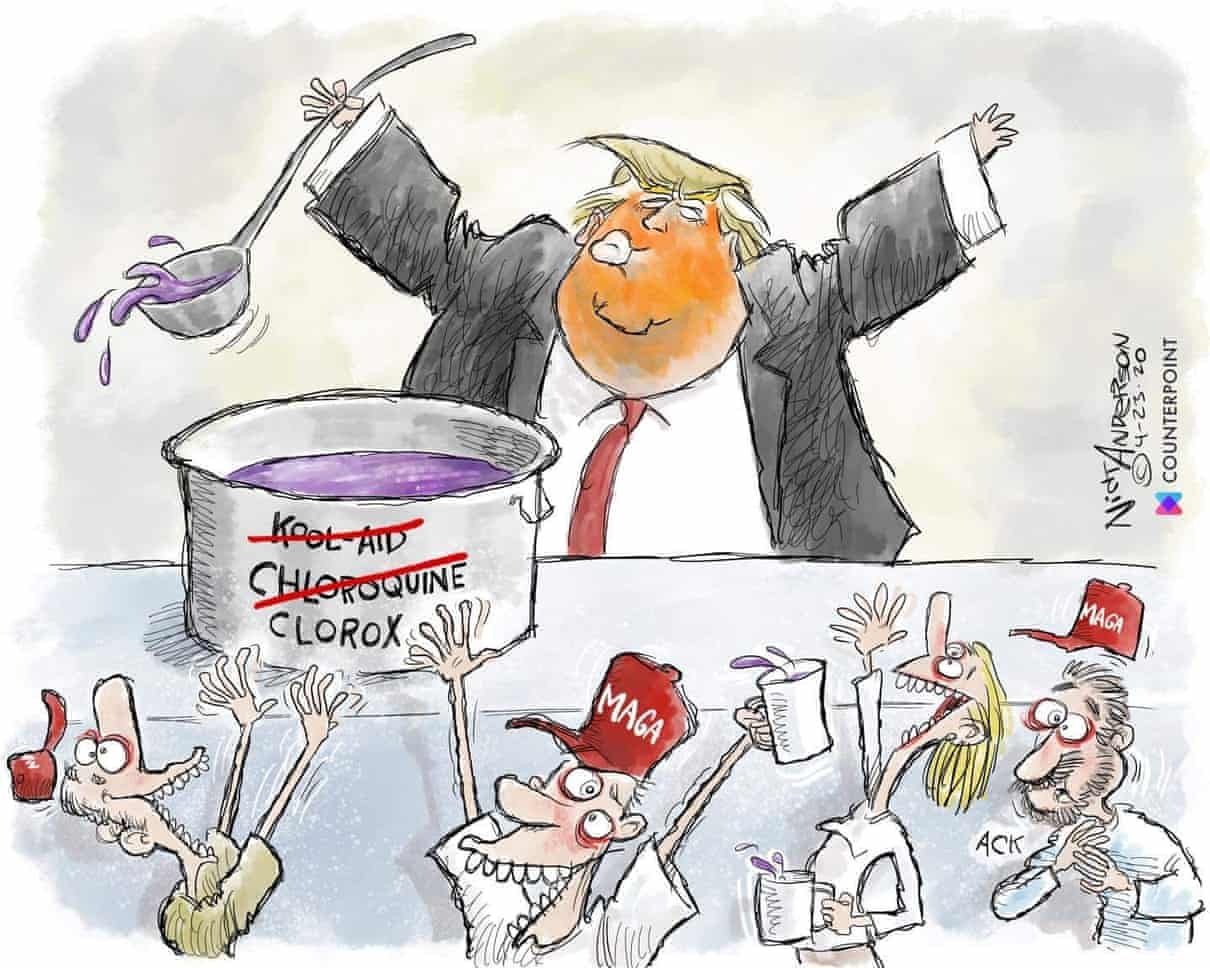 It should come as no surprise that Donald Trump tried to take down a cartoon drawing of himself that doesn't exactly depict him in the best of lights. The US president doesn't exactly know how to take a joke at his expense and as much as his campaign didn't want the world seeing this satirical cartoon, they tried and failed to stop it from being put on sale online.
The cartoon, drawn by Pulitzer-winning cartoonist Nick Anderson, is a fun play at Trump's inaccurate suggestion that injecting disinfectant could protect against the coronavirus. Aptly called the "Trump Cult", the illustration is an ode to the 1978 Jonestown Massacre, in which more than 900 people died after drinking cyanide-laced punch at the order of cult leader Jim Jones.
Originally posted on online retailer Redbubble earlier this month, the Trump campaign filed for a trademark infringement claim against it, which Anderson believes was made due to his depiction of Maga hats in the cartoon, describing the situation as "absurd". Anyway, the cartoon was then taken down less than 24 hours after it was posted.
He also took to Twitter to express his dissatisfaction at the situation:
We live in a strange time when the #POTUS can falsely accuse someone of murder with impunity (violating @Twitter's terms of service), while at the same time bully a private business into removing content it doesn't like. #Orwellian @JoeNBC @jaketapper https://t.co/jfrKjbqaFc

— Nick_Anderson_ (@Nick_Anderson_) May 26, 2020
Needless to say, the Comic Book Legal Defense Fund (CBLDF) and other free speech organisations got involved and managed to sort things out, with the cartoon ultimately being reinstated on Redbubble.
It's ironic that Trump's campaign would try to do something like this given that Donald Trump himself just tweeted this week that Twitter is "completely stifling FREE SPEECH" for the mere act of slapping two of his tweets with a fake news label. Make up your mind on how you feel about free speech, Mr President!