Digi has made an announcement that customers can now place their pre-orders for the latest Samsung Galaxy S21 series (S21 5G, S21 Plus 5G and S21 Ultra 5G) via Digi's phone ownership programme, Digi PhoneFreedom 365 (PF365).
Pre-orders can be made through Digi Store Online (DSO) from today until January 28. For any pre-order made for any devices, customers will receive freebies worth up to RM1,317 which includes the Galaxy Buds Live/Pro, Galaxy SmartTag and Wireless Charger Trio.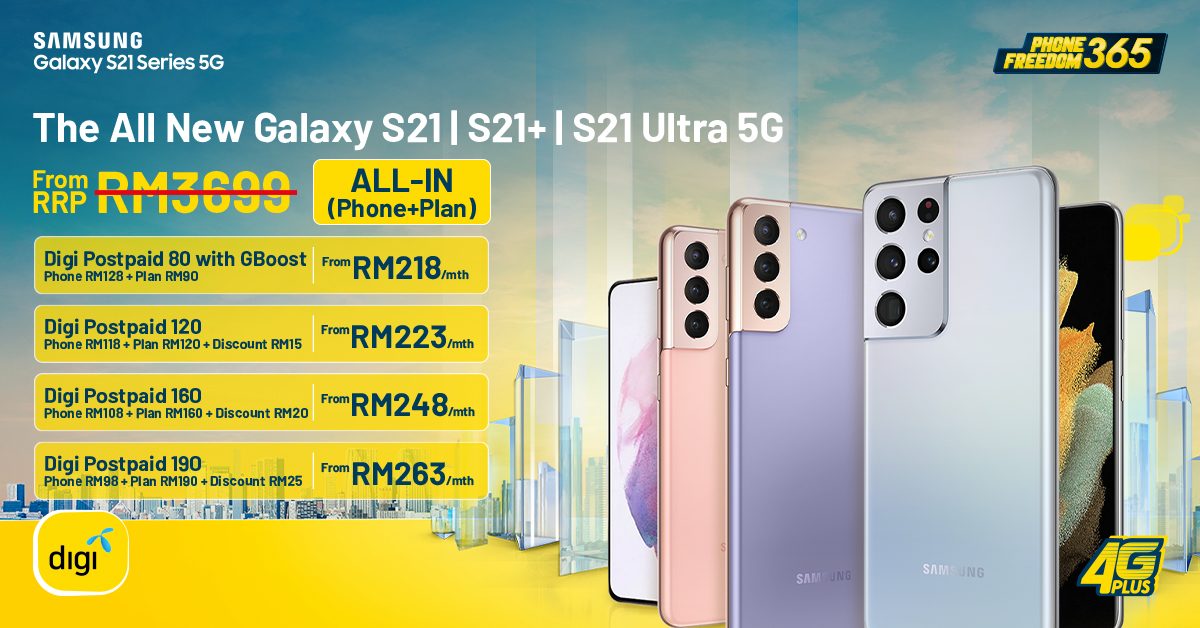 Due to the MCO as well as CMCO, Digi will deliver the devices right to the customers commenting on January 29. Customers who prefer to purchase from stores can do so beginning on January 29.
Customers can enjoy the best all-in monthly payment for device and plan as well as receive double the data quota allocation of up to 200GB/month and also be eligible for a free phone upgrade after the 20th month with the price of RM218 per month.
PF365 customers who subscribe for the Digi Postpaid 160 and Digi Postpaid 190 plans will also enjoy a free Digi Shield, a protection plan that covers their devices against accidental and liquid damage for up to two years.
The Samsung Galaxy S21 series devices are equipped with 256GB of storage, 5G-enabled and comes with a new 108MP Camera and 8K Video Snap.
For more information on the Samsung Galaxy S21 series or to pre-order now via PF365, visit http://digi.my/SamsungS21.