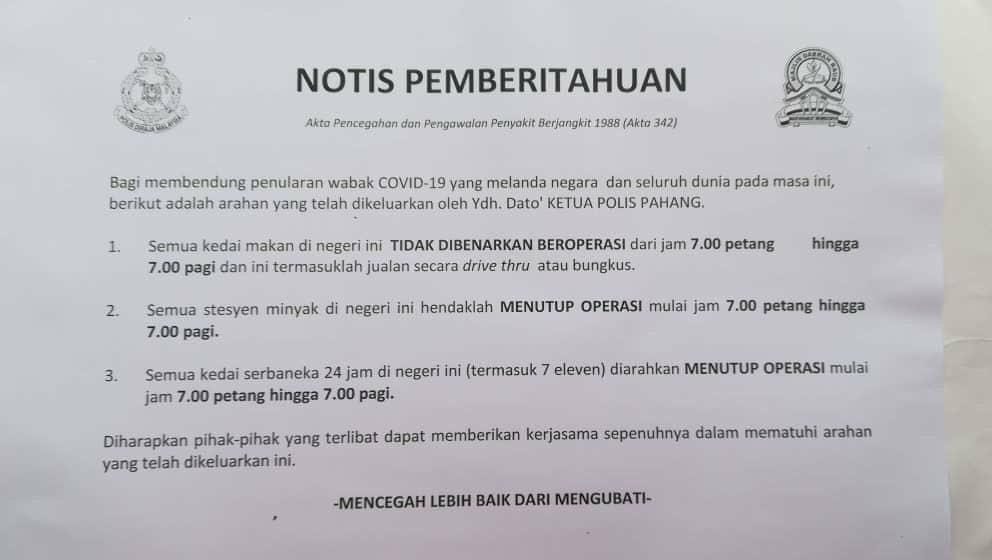 It's safe to say that the first two days of the Movement Control Order didn't go as planned. It's not that there were riots on the streets or anything, it's just that an alarming number of Malaysian's don't seem to grasp the importance of social distancing. Tan Sri Muhyiddin Yassin even had to go on live TV for the second time in two days to practically plead with everyone to stay indoors.
That being said, police are stepping up efforts to remind people to stay at home and thus far, most people have been cooperative. However, there's still an alarming number of people driving around with stupid excuses. We have to understand that when it comes to a lockdown, we're probably only at stage one, which I would call a partial lockdown.
Things CAN get a lot worse. Take Pahang for example. The state went from 0-100 real quick by ordering businesses within five Covid-19 positive districts to remain closed between 7pm and 7am in order to help curb the spread of the virus. The new rules are set to come into effect on Saturday the 21st of March.
This order applies to ALL premises, meaning convenience stores like 7-Eleven, eateries like McDonalds and petrol stations. I don't know about you guys, but I actually like being able to order in dinner/supper or being able to head to the nearest 7-Eleven should I need to stock up on something so, for the love of God.. Please stay at home, people.
I mean yes, 7pm-7am seems a tad bit too drastic but it's what could happen in other states should people continue to show blatant disregard for the Movement Control Order. Remember, we'll only have ourselves to blame should things get worse. So read a book, learn a skill or even sleep all day, it doesn't matter as long as you stay at home.
We will overcome this virus, together.