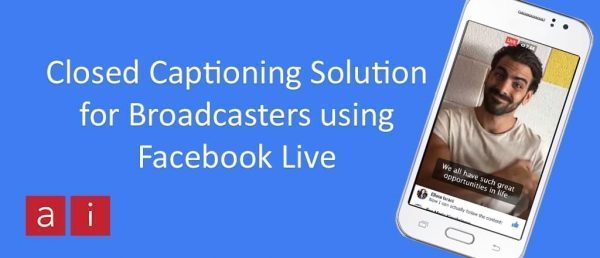 Soon you'll might see close captioning appear on Facebook live.
Australian captioning company Ai-Media announced that it will bring its technology to broadcasters, providing closed captioning services to publishers who want to add live captions to Facebook Live broadcasts.
Ai-Media's technology for adding captions to Facebook Live broadcasts is based on a simple interface: users send their live stream directly to Ai-Media, who then add live captions to the stream and send it back to the user's page. The service purposefully incorporates a minor delay to the user's live stream to allow the captions to appear in time with the audio track in easy-to-read caption blocks.
While there are close captioning services for many TV channels, online captions are still only appearing on uploaded videos, with user inputted captions or auto generated captions. Live captioning will allow more accessible content to users who are deaf or hard of hearing. For users watching live videos on silent – in public spaces, on the train – it is less intrusive to others around them and also sends messages more clearly.
Ai Media is responsible for broadcast captions seen on major TV channels including BBC Worldwide, NBC Universal and Discovery. According to Ai Media, daily watch time for Facebook Live broadcasts has grown by more than 4x, and 1 in 5 Facebook videos is a Live broadcast last year.