There are many ways to celebrate and cherish your love for someone. Last weekend, we just celebrated the day full of love which was Valentine's Day. However, love should be celebrated all time so here are some ideas to surprise your partner for your anniversaries!
For Outdoor Lovers
With a 108MP pro sensor allowing for the capture of 12-bit HDR photos with 64 times richer color data and more than three times wider dynamic range, you definitely want to give your partner a Samsung Galaxy S21 Ultra 5G. Any purchase of it from January 29 to March 32 will get a complimentary Galaxy Fit2, Galaxy SmartTag and Wireless Charger Trio worth a total of RM697.
There's also Samsung Galaxy Buds Pro which comes with Intelligent ANC means you can choose to dial up or down the background noise. Any purchase from January 29 to February 28 will get you a complimentary Strap Cover worth RM99.
Last one for this category is Galaxy Watch3 Bluetooth which is packed full of fitness features to monitor your condition, such as the running guide, with an advanced algorithm that analyzes how you move, helps improve your form and prevent injuries.
Home Entertainment
The Samsung QLED 8K Q950TS Smart TV range offers real 8K resolution for true-to-life viewing experience, right in your living space.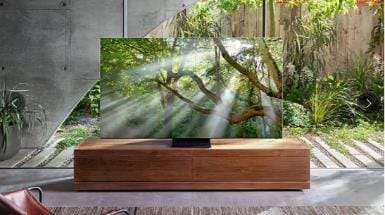 It allows you a better quality visuals, while adaptive picture provides for optimal viewing under various lighting conditions, so you can enjoy your favourite films unlike you've ever seen before.
The others are Samsung Odyssey G9 Monitor which is a perfect choice for gamers and Samsung 32" M7 Smart Monitor with Mobile Connectivity and UHD resolution which is an all-rounded option equally adept for both work and play.
Value Hunters
The Samsung Galaxy A12 is the perfect option for those looking for a device with features and specifications comparable to flagship smartphones, yet at an affordable price point. Another choice is Samsung Galaxy Tab A7 (10.4") Wi-Fi which is a stylish companion for everyone that packs a slim design, vibrant entertainment features and great performance in a single tablet.
New Homeowners
The Frame QLED LS03T 4K Smart TV is the elegant and modern design of The Frame doubles as a piece of decorative furniture, adding a touch of personality which blends seamlessly into a new home. It also possesses 100% Color Volume through Samsung's QLED Quantum Dot technology.
Then, there's The Samsung Grill Microwave Oven features a range of simple-to-use, innovative cooking functions while adding a huge dose of style to your kitchen. It is built to prepare crispy, tastier and healthier food with the new Grill Fry function and create delicious brownies or banana bread at the touch of the Home Dessert button.
Last but not least, Samsung Family Hub is a smart fridge that comes with intelligent meal planning features which provide simple-to-follow steps for cooking – perfect for young homeowners who are new to preparing meals for themselves.
It can give instant access to many recipes with simple on-screen instructions, while the Meal Planner app suggests meals to cook, based on your preferences and the food available in the fridge.
With all the recommendations above, hopefully it can give you an idea on what to give to your partners for your anniversary or simply any personal romantic events of you and your partner shared.