Biostar has announced its latest product entry in the highly-acclaimed RACING series family with the introduction of one of the world's most compact mini-PC with a volume of only 0.29L, the Biostar Racing P1 mini-PC. This pocket-sized PC goes beyond just practicality and portability as the RACING P1 brings with it the pedigree of the RACING series with its signature VIVID LED DJ for unrivaled customisation like its motherboard counterparts.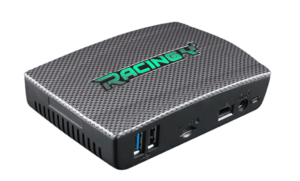 For the person always-on-the-go, a laptop maybe a savior but in a BYOD environment, nothing can beat the efficiency of a keyboard and mouse. A tablet may be portable but long-term usage and the lack of expansion ports limits its actual function. Not to mention both are expensive options. The Biostar Racing P1 aims to solve all this by serving as a way to make the PC accessible, usable and portable to get the benefits of the platform without making sacrifices in both performance, space or budget.
TheBiostar Racing P1 mini-PC features an Intel Z8350 quad-core processor with clock-speeds up to 1.92G with a maximum TDP of only 2W allowing completely fanless, silent operation.
The Racing P1 is decked out in carbon-fibre styling and featuring sports car curves. Complimenting this is the impressive adoption of the VIVID LED DJ directly into the RACING P1 and to add more style, BIOSTAR has enabled the use of the 5050 LED strips for use with the RACING P1 directly via the onboard front header. Control how your LED strip and RACING P1 LEDs function with full control via the VIVID LED DJ software.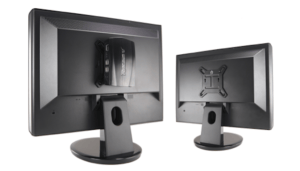 The Biostar Racing P1 is compatible with standard VESA mounts allowing it to be mounted on compatible monitors and displays for a complete, all-in-one solution with minimal clutter saving you desk space and less wiring to bother with.
Full 64GB of internal storage allows adequate space for operating system files and documents and 6-USB slots plus a microSD card reader allows complete expandability for storage.