By Gregory Kong
Established in 2008 to come up with the best competitive gaming gear, BenQ's ZOWIE brand has been creating eSports monitors since 2010. Today, the ZOWIE brand is renowned for its partnerships with various eSports leagues and tournaments, including being the official monitor partner for the PGL Major Stockholm 2021 and the ESL Pro League Season 15. The XL monitor series in particular has always received high recognition for its popularity in the competitive gaming and eSports arena, including from Dot Esports, TechPowerNext, SlurpTech, and TFTCentral. In fact, professional gamers have been swearing by the ZOWIE range of monitors for years!
The XL2746K is an updated version of the XL2746S 27" 1080p monitor, which keeps all of the features of its predecessor while adding a few features of its own. We have previously reviewed the XL2746K's smaller brother, the XL2546K, so you might want to catch yourself up on that.
Competitive gaming or eSports monitors have a distinctly different set of requirements to monitors meant for general productivity or graphics work, as well as that of standard gaming monitors. This is because eSports gamers are not necessarily interested in wide colour gamuts, or viewing angles, ultra-high resolutions, or even HDR. Especially for first-person shooter (FPS) gaming, the top requirements for eSports monitors are high refresh rates and low response times. And the XL2746K delivers on both of those, with a super-high refresh rate of 240Hz, and a response time of 0.5 ms, using a twisted nematic (TN) panel and BenQ's 'fast liquid crystal' technology to achieve those results.
Like its smaller brother, the XL2746K has been engineered to provide eSports gamers with the greatest level of flexibility in mind to suit their individual playstyles. The smaller base provides gamers with more playing space, while remaining just as stable as the previous 'S' model. The height & tilt adjustment have been increased to 155 mm and -5~23 degrees respectively. Just like the XL2546K, the XL2746K features the XL Setting to Share capability, which allows you to share your specific monitor settings with others, as long as they are also using XL-K-series monitors from the ZOWIE range.
Other improvements that BenQ has made with eSports gamers in mind include the new screw-less 'shield' design, which helps block out distractions on either side of the monitor; a revamped user interface with the new 5-way S Switch, which makes switching video modes much easier and quicker; a repositioned headset hanger, allowing you to hang your headset towards the back of the display; and the shifting of all branding, buttons, and LEDs from the front of the monitor to the back, allowing gamers to focus on the game, and not get distracted.
The XL-K series' party piece is the proprietary Dynamic Accuracy (DyAc)+ technology, which BenQ designed to enhance 'Spread Control' or 'Recoil Control' in CounterStrike: Global Offensive (CS:GO). BenQ explains DyAc as a type of anti-blur technology, which keeps the same refresh rate and smoothness, but adds more clarity to moving objects on the screen, enhancing dynamic vision. More importantly, using DyAc+ adds virtually no input lag.
Other display-related technologies included in the XL2746K are the 'Black Equalizer' and 'Color Vibrance' features, which basically modify the contrast and saturation of the display to allow the player to pick up enemies more effectively. BenQ's proprietary eye-care technologies included in this monitor include Low Blue Light Technology, which filters out the blue light to reduce eye fatigue and irritation; and Flicker-free technology.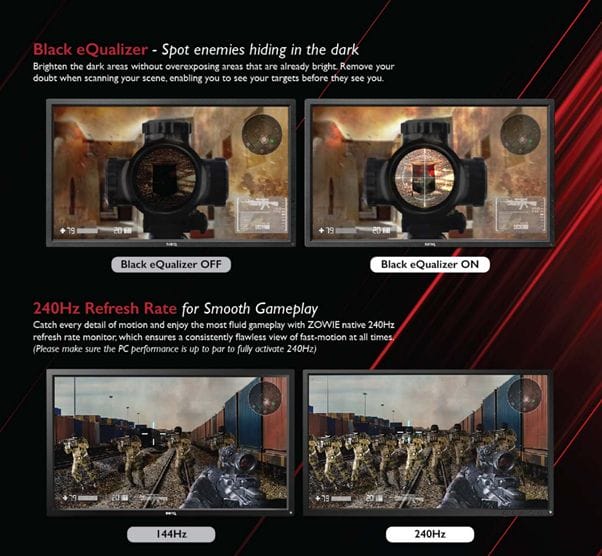 The XL2746K comes with 3 HDMI 2.0 jacks, a DisplayPort 1.2 jack, and the standard 3.5mm headphone jack. Power consumption is rated below 40W when operating.
The BenQ ZOWIE XL2746K has an RRP of RM2685, and can be purchased online from BenQ's official stores on both Lazada & Shopee. The monitor come with a 3-year manufacturer's warranty, offering on-site pickup service, so you don't have to send it to a service centre yourself.
BenQ ZOWIE XL2746K – https://bit.ly/3DhBQcJ
Shopee – https://bit.ly/36UeXzE
Lazada – https://bit.ly/3iHvtWn