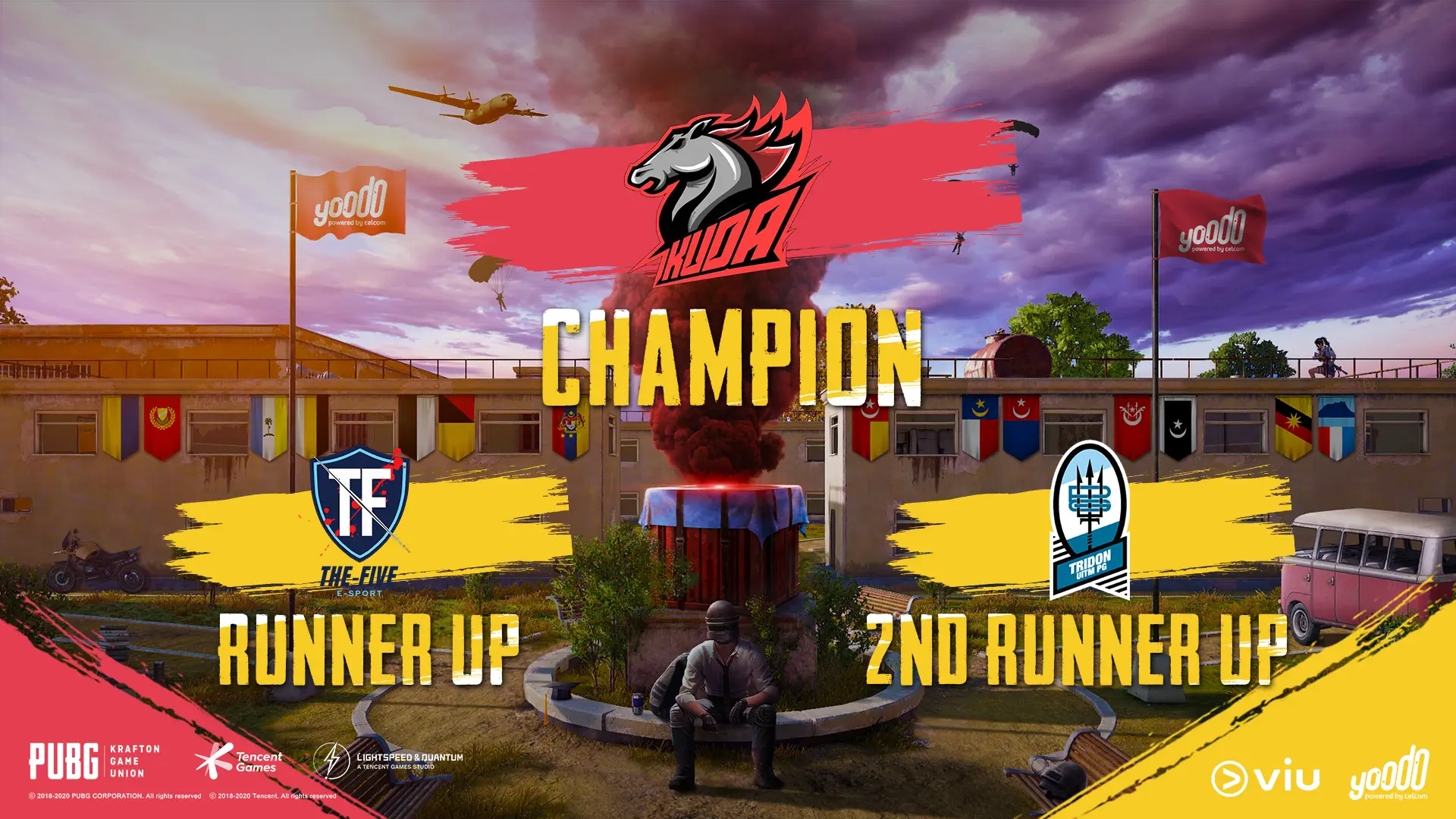 The PUBG MOBILE CAMPUS CHAMPIONSHIP (PMCC) 2020 reached a fever pitch during the Grand Finals this weekend. Brought to you by Official Digital Telco Yoodo, the nation's top collegiate teams went head to head on the ultimate battleground for campus glory.
A total of 3,252 players from 813 teams of 320 universities and colleges registered for PMCC 2020 and took part in the qualification rounds, followed by the regional finals where 20 campus teams competed to be the top campus team in Malaysia.
Consistency proved to be the winning formula for the winner team, MSU Kuda Esports as they emerged victorious racking-up a total of 72 points despite not getting any Chicken Dinners in the all-important Day 3 of the Grand Finals.
The students from Management & Science University now lay claim to the title of Malaysia's best campus-based team and added to that glory with RM20,000 prize money. On top of the bragging rights, the team also secured a place to compete in the upcoming PUBG Mobile National Championship (PMNC) 2021.
Coming in 2nd and 3rd place were The-Five Esports from University Kuala Lumpur, Malaysia Institute of Aviation Technology and Tridon from Universiti Teknologi MARA, Pasir Gudang.
They now take home the spoils of war with prize money of RM10,000 and RM6,000 respectively. Juno from Fizrix of Universiti Tekonologi MARA, Kota Kinabalu was also crowned as "Campus Solo King" when he was the last man standing in the Solo King tournament, held on Day 2 of the Grand Finals.
"The response for this year's PMCC has been nothing but fantastic. We are proud to continue with PMCC and provide a platform for young gamers to showcase their talent. This is certainly in line with our goal to nurture local grassroots talents and ultimately grow the esports scene in Malaysia," said Chow Tuck Mun, Head of Yoodo.
Commenting on the climax of the tournament, Tuck Mun added, "We wish MSU Kuda Esports a hearty congratulations on their epic win. Overall, we are definitely delighted by the quality of action displayed throughout PMCC 2020.
As Yoodo is now the go to Telco when it comes to esports in Malaysia, we aim to roll out more exciting initiatives such as this to continue unearth more young gaming talents and develop the country's promising esports talent pool."
Presented by Yoodo, the PMCC is a tournament organised specifically for university and college students in Malaysia. This year, the championship offered a total prize pool of RM60,000 along with a coveted slot into the PMNC in 2021.
"We are pleased to have a stable and long-term partner in Malaysia with Yoodo. The tournament is a way for us to convey our recognition of the immense support we have received from the students here. This support has continued with the great reception and participation in the tournament, form players and fans alike," said Oliver Ye, Director of PUBG MOBILE SEA.