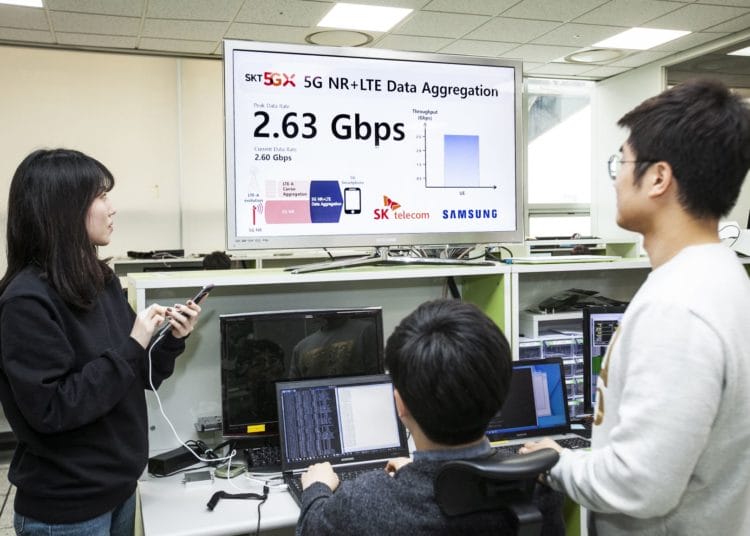 How close are we to 5G deployment? Samsung and SK Telecom have just announced that they have successfully completed network interoperability test between using both 4G and 5G networks reaching phenomenal speeds.
During the test, both companies achieved 2.65Gbps in data speeds on the 5G smartphone, combining both 1.5Gbps in 5G using 3.5GHz frequency (100MHz bandwidth) with 1.15Gbps in LTE using 1.8GHz, 2.1GHz, and 2.6GHz frequencies (65MHz bandwidth) all of which are for commercial use by SK Telecom.
The test, carried out at Samsung Electronics office used commercial 4G and 5G NR end-to-end networks solutions on the Galaxy S10 5G smartphone which was unveiled last month. SK Telecom, in particular, will be able to boost the overall transmission data speed by 80% by leveraging the 4G and 5G dual connectivity. It will allow users who are staying in the 5G service coverage to download UHD videos of 2GB in just 6 seconds, and large video content such as 4K VR video of 10GB in less than 30 seconds.
Aware that during the early stages the combined capabilities of both bandwidth is important for mobile carriers to maximize the characteristics of the network offering ultra-fast speed, low-latency, and massive-connectivity by leveraging on existing networks.
The success of the demonstration signifies an early blueprint for telco's to visualise how to deploy their services with both 4G and 5G co-existing side by side.