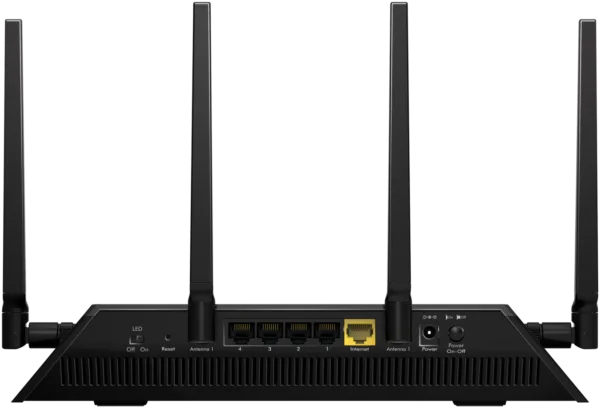 Fast, Faster, and Fastest
Complementing this, it comes with four external antennas, and supports dual channel 2.4GHz (800Mbps) and 5Ghz (1733Mbps).
Plenty of Ports
You will have five Ethernet ports, of which one is for WAN connection. All five of these ports are Gigabit speed, which means faster data transfers on Ethernet. Also included are three USB ports.
Sharp Like a Hawk
The NETGEAR R7800 (AC2600) Nighthawk X4S Gaming Router looks like something from the future – it certainly does look edgy. The Nighthawk is rather large in size, and can either placed on a solid surface or wall-mounted. Its main selling point is the MU-MIMO (Multi-
User MIMO) function, a speedy solution that lets multiple users connect to a Wi-Fi router at the same time without having any speed degradations.
Connecting People
We hooked up to our home broadband, and it works like a charm. The wizard was easy to use and it took less than five minutes to setup everything. Wi-Fi is fast and strong, signals didn't falter, and we were four rooms away too! If you're going to be gaming (away from the prying eyes of your elders or loved ones), you can do so without worrying of any lag or connectivity problems.
Wireless Storage
By connecting your external drive to any of the USB ports, the R7800 automatically turns it into a shared folder, which can be access on any PC on the network. Transfer speeds are fast, in both read and write test. It's quite literally plug and play.
PRICE: RM1,199
DIMENSION: 285x185x50mm
WEIGHT: 840g
WI-FI SPEC: 802.11ac (Supports 802.11b, 802.11g, 802.11n (2.4+5 GHz), 802.11ac)
PROCESSOR: Dual Core 1.7Ghz CHIPSET: Broadcom
MEMORY: 512MB RAM + 128MB
FLASH SECURITY: WEP, WPA, WPA2, WPS
ANTENNA: 4
USB: 2x USB 3.0, 1x eSata/USB2.0
Value: 7/10
Performance: 9/10
Features: 9/10
Design: 9/10
Usability: 9/10
Total: 8.6/10
VERDICT: "Not cheap, but certainly powerful"
Review by Din.