While there are a multitude of gaming peripheral companies out there, few can match the Logitech's vast catalogue. Having recently refreshed its G-series lineup of gaming peripherals, the company has presented PC.com with the G430, its latest flagship headset. Boasting surround-sound in an affordable package, I wasted no time putting the device through its paces.
Polarising Aesthetics
The G430's striking blue mesh cushions will be the first to catch your eye. The love-it-or-hate-it 'sports performance cloth' gave me pause at first pass due to its stiffness. Thankfully, after an extended gaming sessions, I'm pleased to note that the ear-cups have proven to be more than wearable. The cushions are also removable for washing should they ever get dirty. The ear-cups swivel for a better fit while an adjustable noise-cancelling microphone boom can be found on the left side. The braided cable also comes with inline controls for easy volume adjustments and a microphone mute switch.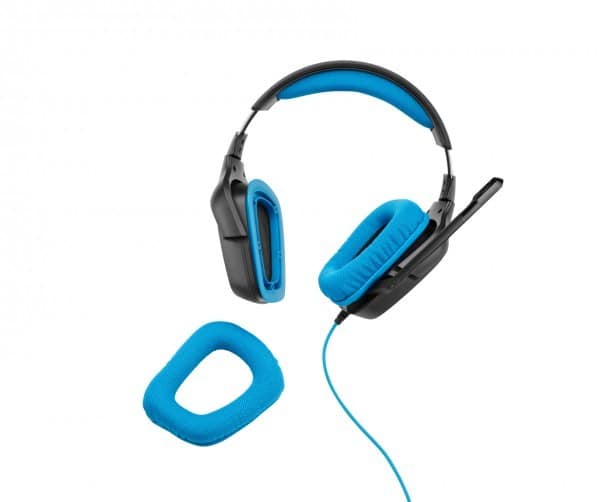 Functionality Galore
Of course, as a Logitech product, the G430 is supported by the Logitech Gaming Software. Once installed, you will have access to a control panel that offers excellent tuning options by using the included USB dongle. Aside from the usual suspects of bass and treble tuning, you can manually adjust the volume for each channel of the included Dolby 7.1 surround sound. Sound-wise, it certainly holds up pretty well as it felt wholesome, with soaring winds and cracking gunfire. Voices are clear too. Suffice to say, you don't have to break the bank as it's an easy pickup for the more modest consumer.
Headphones
Driver: 40mm
Frequency Response: 20Hz-20KHz
Impedence: 32 Ohms
Sensitivity: 90dB SPL/mW
Microphone
Pickup Pattern: Cardioid (unidirectional)
Type: Pressure Gradient Electret Condenser
Frequency Response: 50-20KHz
Sensitivity: -40 dBV/Pa re: 0dB = 1 Pa, 1KHz
Price: RM269
Value: 9/10
Features: 9/10
Performance: 8/10
Design: 8/10
Usability: 8/10
Verdict: Comfortable and functional, these cans make a (surround) sound case for any gamer's arsenal.
Total Score: 8.4/10
This review was written by Daryl Tan, and can be found in the January 2014 issue of PC.com.