All-in-one PCs are simple to use and are able to pack with higher specification when compared to tablets and notebooks. For Dell Inspiron 24 7000 AIO, we've managed to secure ourselves the highest specs in the range for our reviewing pleasure. Find out more about this compact machine and how it performs.
Contemporary Design
The Inspiron 24 7000 AIO is sleek and designed with flexibility in mind. Unlike many of the AIOs in the market, this particular model features a unique stand that allows the machine to be lay flat on the surface if you choose to not extend it. The design is modern and classy, but still manage to appeal to those who'd like cool-looking gadgets on their desks. Like many AIO that are slim in form, a ROM drive is omitted from list of features. This is not a major disadvantage as the need and use for one is sporadic.
Its 23.8-inch IPS touchscreen display supports FHD resolution of 1,920 x 1,080 pixels. The screen itself is very glossy and clear. But how does it perform? For day to day, work and play, the Inspiron 24 7000 AIO does its job swimmingly; it's good enough for gaming, viewing videos and photos. I found it lacking in producing crisp images that you often feel from high-end monitors.
A Strong Performer for The Average Joe
The Inspiron 24 AIO 7000 is equipped with a 6th Generation Intel(R) Core(TM) i7-6700HQ Processor (6M Cache, up to 3.50 GHz) with 12GB Dual Channel DDR4 2133MHz (4GBx1+8GBx1) and an NVIDIA GeForce GTX 940M mobile graphics card with 4GB of GDDR3 RAM. These specifications are suitable for home entertainment and multimedia machine.
Of course, you can probably get away with using it as a gaming machine if you're playing games with low to average graphic requirements on high quality graphic settings. Unless you're running the latest game titles requiring heavy graphics, you'd experiencing a certain degree of lag and graphic tearing.
This machine runs on hybrid drive with a 1 TB 5,400 RPM mechanical hard drive and 32 GB mSATA ss. With the hybrid storage system, it enables you to enjoy some enhanced performance so that your file accessing speed is faster and run programs smoother.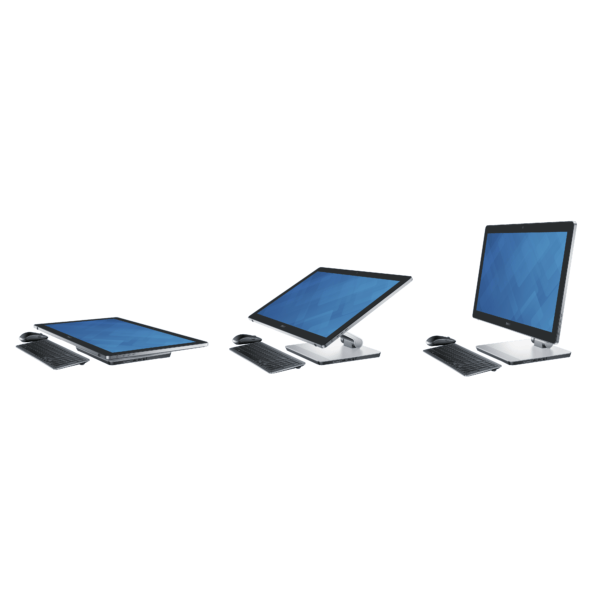 An Added Feature
Aside from its unusual design, a special feature is the RealSense 3D camera, which enables you to take advantage of apps like 3DMe. The app scans your face and fit it onto a variety of 3D models. Currently, the use of this 3D camera may be limited but the potential of engage more fun and creative activities could be huge.
Price: 5,799
Dimensions (HxWxD): 361.18mm x 582.98mm x 27mm / 14.22″ X 22.95″ X 1.06″ (Touch Screen's measurement)
Processor: 6th Generation Intel(R) Core(TM) i7-6700HQ Processor (6M Cache, up to 3.50 GHz)
Memory: 12GB Dual Channel DDR4 2133MHz (4GBx1+8GBx1)
Storage: 1TB 5400 rpm Hard Drive + 32GB mSATA Solid State Drive
Operating System: Windows 10 Home Single Language, 64-bit
Display: 23.8-inch FHD (1920×1080) Truelife LED-Backlit Touch Display with IPS and Intel(R) RealSense(R) 3D Camera
Camera: 3D FHD Camera
Graphics: NVIDIA(R) GeForce(R) 940M 4GB GDDR3
Audio: Stereo speakers professionally tuned with Waves MaxxAudio
Connectivity: 802.11b/g/n, Bluetooth 4.0
Ports: Rear: 2 x USB 2.0, 45 – RJ Ethernet Port, HDMI in, HDMI out. Side: 4 x USB 3.0
___________________________________________________________________________________________________________________
Value: 8.5/10
Features: 8.5/10
Performance: 8.5/10
Design: 7.5/10
Usability: 8.5/10
Total Score: 8.3
Verdict: High performance AIO with great design