Review by Din; published in PC.com May 2014
It was just a matter of time before ASUS takes the fastest single card solution in the market out there and pairs it up with it's own proven DirectCU II cooler. Yes folks, I now have in my hands the NVIDIA GeForce GTX 780 Ti that has been blessed with ASUS-specifc modifications. This is the much awaited GPU from the Taiwanese, and boy oh boy, I gleefully waited for so long to test this baby out. Let us make haste and see what this monster of a baby has to offer!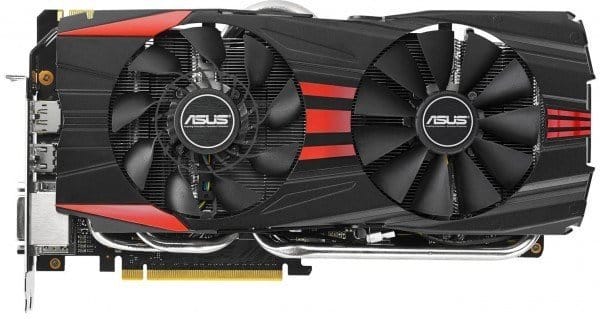 Pick Your Poison
I had high hopes for this card. It's hard not to really since the GTX 780 Ti is the fastest single GPU system in the market today. I definitely know that I could rely on the DirectCU II cooling to get a good temprature reading on the card. As with other ASUS's high performance cards, the 780 Ti comes in a really large black and red box, showcasing the advantages of DirectCU II at the back. Opening the box, I had been greeted with a smaller bundle containg various extras. The card itself sits snugly and safe in custom made foam packaging, ensuring it can deal with occasional bumps. I'm a bit suprised with what ASUS has paired with the card though as we only get a driver DVD, a booklet, a power adapter and some stickers. Honestly, we had expected more. The stickers is a unique touch as it let you to match the colour of your card to the tones of your (ASUS) motherboard. The two choices are red or gold. Considering that you won't be seeing much of your card after it gets inside your casing, it does make this idea a moot point. Even so, it's definitely a +1 for customisability.
Heavy Beast
The DirectCU II cooler has always been known as a really heavy cooler and it's no different in this case. Even so, it does look slimmer and is exuding this feeling of elegance instead of the appearing like some brutish hulk. The dual fan design signature is still here with one fan being made to look and operate differently from one another to create better air flow. The card itself is around 30cm in length and should easily fit any ATX casing that are currently being sold. The fans are definitely good enough to dissipate the heat during my intense testing sessions. It also managed to remain quiet throughout my review as it worked its best to remain unnoticeable, a trademark of ASUS's DirectCU II design. Also, the slim-ish design means that I am only using up two PCIE slots. Thus I can now be confident the GPU will not interfere with any hardware upgrades if I may have in mind.
Back Support
I somehow prefer the card without the provided sticker as the all-black look makes it seem classier, but that's just me. Due to the card's heft, ASUS has also installed a backplate to support the card from bending under it's own weight. The black backplate not only provides the necessary assist in weight management as it also adds in its own coolness to the card, both in term of temprature and looks. What I like most about the ASUS GTX 780 Ti DirectCU II is that the SLi connector is placed in a higher location than usual. There are times the SLI connector cable that comes bundled with the GPU getting stuck onto the cooler fan due to its close proximity. There is no such issues this time. Kudos to ASUS for figuring this out.
Outputs Galore
ASUS decides to keep with NVIDIA's default output ports as it goes with two Dual-Link DVIs, a single HDMI, and one DisplayPort. These outputs can be combined to make a multiple monitor setup as the ASUS GTX 780 Ti is more than powerful enough to mantain a high framerate that such a setup requires. If you feel that one card is not enough, well why not get two? Need more grunt? Get a third one? Not enough? You can SLi up to four (yes, 4!) of this beasts of a card together! Not only you will be the talk of the town but every gamer in Malaysia would give you that sought after 'look of envy'. Given that a single card is enough for most of the games in the market today, an SLi system would certainly mean you can safely play any games on the highest setting without risking dropped framrates.
Power User
The ASUS GTX 780 Ti DirectCU II has also been factory overclocked by ASUS to give that extra oomph. Clocking in at 954MHz (from 875Mhz) for it's core and ramping the RAM speed to 7000MHz gives this super GPU even more value for its asking price. With the DirectCU II cooler installed, you can even bump up the clock speeds yourself. To make sure enough juice is provided, the card accepts two 8-pin GPU power connectors. Oddly, the 3GB GDDR5 of VRAM that is included does seems to be a tad little, especially since the Team Red in the GPU industry is already pushing out 4GB GDDR5 for its cards. Personally, 3GB is more than enough, especially for full HD gaming.
Full Circle
This is certainly one of the best card that I have tested thus far. It barely breaks a sweat even when I made it operate on a triple monitor setup. Games used in ths review include the latest EA game, Titanfall and, honestly, the 780 Ti with DirectCU II does make the game easier to play as you can properly and easily identify enemies from comrades. For a twitch shooter like me, it does makes a whole lot difference. Battlefield 4 also ran smoothly, especially with the gameplay maps like Naval Strike, which feature heavy graphic rendering of simulated water elements. Also, I must say that there is nothing better than seeing a high definition goat rendered beautifully on Goat Simulator as well. I decided to go with rFactor 2 as my triple monitor game test and it blew me away with zero lag during its run. The ASUS GTX 780 Ti DirectCU II certainly is the card for those who want the fastest and best system for graphics.
Chipset: Nvidia GTX780 Ti
Memory Size: 3GB GDDR5
Core Clock: 954Mhz
Core Clock (Boost): 1020MHz
CUDA Core: 2880
VRAM: 3GB GDDR5
Memory Clock: 7000MHz GDDR5
Bus Standard: PCIE 3.0
I/O Port: 1x DVI-I, 1x DVI-D, 1x HDMI, 1x DisplayPort
3DMark Firestrike Extreme: 4974              
Value: 9/10
Features: 8/10
Performance: 10/10
Make: 10/10
Usability: 9/10
Total Score: 9.2/10
Verdict: Gold, Red or Black, it makes no difference for ASUS' best NVIDIA GPU yet!