Razer announced the new Razer Blade 14-inch gaming laptop. This latest version of Razer's award-winning laptop offers an updated CPU, faster memory and a new 4K UHD screen option. The result is a laptop with a perfect balance of power, mobility and durability with the characteristically elegant Razer Blade profile.
The latest generation of 7th Gen Intel Core i7 quad-core processor in the new Razer Blade is more powerful and more efficient than last year's model, the "Best Portable Gaming Laptop" on the market according to Digital Trends (November 2016). The powerful CPU of the new Razer Blade achieves double-digit increases in productivity benchmarks and is paired with NVIDIA GeForce GTX 1060 graphics to deliver the best frame rates available in an ultra-thin laptop. The performance of the new Razer Blade is matched by its light weight and durability. Measuring only 0.70 inches thin, it weighs a little more than four pounds and is housed in a unibody CNC aluminium chassis.
A Full HD panel comes standard on the new Razer Blade, while a new 4K UHD touchscreen option will be available for the first time on Razer's 14-inch model. Razer Blade users can enjoy extraordinarily clear visuals and intense frame rates in games with the Full HD display, or step up to the clarity of 4K for ultimate picture quality and the convenience of a touchscreen interface.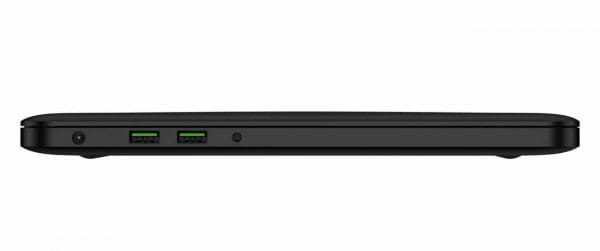 The Razer Blade comes standard with 16 GB of DDR4 dual-channel memory running at 2400 MHz, Killer Wireless-AC and Thunderbolt 3 connectivity. The system offers PCIe SSD storage options up to 1 TB, providing fast data transfer speeds. Other features include a comfortable and accurate anti-ghosting keyboard that is powered by Razer Chroma. This technology unlocks a colour palette of 16.8 million colours and a virtually endless array of keyboard lighting effects that can be customised and synchronised to display in-game events.
Razer is one of the most awarded laptop manufacturers in recent history. Its 12.5-inch Blade Stealth Ultrabook won more than 20 awards in 2016, while the 2016 Blade and redesigned 17.3-inch Blade Pro received lauds of their own from the editorial and gaming community. Razer's Project Valerie laptop concept debuted at CES 2017 and took home more than 30 accolades at the world's biggest technology show.
The new Razer Blade Full HD systems are available now in North America and Europe at RazerStore.com and in-person at RazerStore San Francisco, as well as other select retailers and etailers. The 4K UHD model is expected to be available in Q2. For more information, visit Razerzone.com/blade.