Social entrepreneurship is an alternative to building a better solution to communities, their surroundings, and for better living.
Since social entrepreneurship has yet to become a mainstream business, most people possess an ambiguous and little understanding of the subject. Social entrepreneurship in Malaysia has progressively evolved compare to before and this is quite encouraging for those who are new to the field.
LiveatPC brings the perspective of social actors to understand what it takes to become successful social entrepreneurs, with the hope to inspire more youth participation to it.
"Six years in the business, we still see many people struggling to define what social entrepreneurship is for them. The longer we are stuck with the definition, the more we delay the effort and lose sight to put in the actual work. Start with identifying what social issues that are close to you and figure out ways you can create solutions," Melisa Lim, Co-Founder of Langit Collective shares.
There are a lot of social issues out there and it is impossible to solve all of them at once. The first challenge to set up a social enterprise is to pick the right business model that suits a certain social need, market condition, and the positive impact you want to build.
"When we first started the business, it takes a while for us to determine the right business model and stick to it. It requires a trial and error period to find the right social issues that fit you that can also become a business," Melisa adds.
"At Langit Collective, we empower our local farmers and bring the best heirloom rice varieties to the consumers. We understand there is a lot of potential with heritage rice and the farmers are not recognised for the work they do. Our role here is to help them expand the good rice produce and through our platform, we help connect them with the market needs," Melisa shares.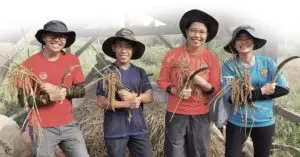 Meanwhile, Wong Xiao Cheng, Chief Executive Officer (CEO) and Founding Partner of Eart Heir who champions sustainable fashion shares one of the key challenges to ensure supply and demand are met. "As our artisans continue to build the handcraft, we need to ensure the demand is always there. In other words, we need to constantly educate consumers on sustainable fashion as well as developing good business strategy intended to get people into making an impactful purchase."
All these efforts are to address the unmet needs within the community and generate better revenue to elevate lives and sustain the whole ecosystem.
EartHeir's mission is to celebrate and revive craftsmanship. "With every piece of handwoven bags or products sold, we are expanding the heritage and empowering our artisans who spend their lives honing the skills in crafting. Our role as social entrepreneurs is to accommodate those needs and connect the communities of artisan and bring live enhancement to them."
When asked about expectations as social entrepreneurs Wong explains they need to be realistic and adjust their lifestyle accordingly. "Oftentimes we are not fully funded hence we need to check our finance before starting. Make sure your lifestyle mirrors social entrepreneurship. If you are used to a luxurious lifestyle as an entrepreneur or individually, being a social entrepreneur, that way of living might no longer a priority," she shares.
Similarly, Melisa shares even though the team is small, each member is passionate and holds similar values to drive the mission.
"The significant difference between entrepreneurship and social entrepreneurship is the decision-making process. Every decision's outcome should reflect the spirit of social entrepreneurship. We are not merely driven by consumer needs, instead, we are bound to the societal values and accommodating those needs," says Wong.
"Business and the team need to think sustainably not just financially," she adds.
In essence, being empathetic and keeping a curious mind should be at the heart of every social entrepreneur. Without a deep sense of empathy and a strong desire to create a difference, it is hard to sustain the business because it is rather a challenging mission that requires a long-term solution.
Adding to it, Wong elaborates a social entrepreneur must acquire strong communication skills as they will deal with a diverse set of people, potentially from high-level corporates and the rural community.
"We need to establish trust, convince, and communicate effectively to bring a various set of people on board and contribute to the undertaking. This is a beauty in itself because it makes you go outside of your bubble."
Volunteering is one of the best ways to begin getting exposure to social entrepreneurship. Both believe through volunteering, participating in NGOs, the youth can find the sweet spot and start filling the gap to contribute. It also helps to build their empathy.
"Social leaders are always looking to expand their team and in need of new talents to fill in and take part, most of the time we welcome who are passionate to be part of the solution," Melisa adds.
"Experiencing and knowing is two different things, the more we expose to the cause, the better we will understand what is social entrepreneurship like, and compel toward it," Wong adds.
"If you are still uncertain where to start, try to replicate and observe your local community and see what is lacking. We can also learn from what other country has successfully done and come up with creative solution align with the local density," Melisa shares.
To draw more participation, the government must also remove the structure and form a regulative measure. There is an undeniably existing barrier toward this business model making it relatively difficult to establish.