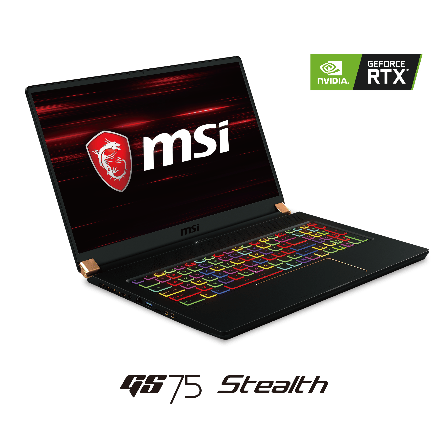 A day after Nvidia announced the next generation graphic processors that will enable everyday gaming machine to perform duties designated for high end rendering system, MSI gets on stage to unveil the  brand new GS65 and GS75 Stealth, both equipped with the GeForce RTX GPU's.
Known to have first started the ball rolling in portable gaming machines, MSI has gaming pedigree built into their values, the company's main focus is in making world class gaming notebooks. The 17.3" GS75 Stealth and the GS65 Stealth, the 15.6" takes advantage of the sophistication the RTX has to offer, the claim to real-time ray tracing and AI-enhanced gaming experience is here and MSI is now part of it. As we had heard the previous night, the NVIDIA GeForce RTX graphics pushes the boundaries of laptop graphics. This powerful graphics takes the gaming out the frame, enabling an experience of realism. Aside from the performance boost, the new GeForce RTX goes beyond the traditional rendering techniques to present better in-game lighting with detailed reflections, shadows, and shaders. To take full advantage of the new graphics, MSI has also enhanced its exclusive Cooler Boost design, effectively reducing operating temperatures.
Thin Is In, Now in Gaming
The GS75 is really thin, never before we could imagine such a heavy duty machine can be assembled in such minute form factor. Living up to its predecessor, the powerful unit runs on the latest GeForce RTX 2080 graphics, delivering  realistic graphics in a small 2.2 kg, 18.95 mm size package with dimensions up to 60% smaller than regular 17" laptops. In addition, the GS75 has an immersive 17.3″ 144Hz IPS-level display, and straddles on a golden hinge accent and aluminum alloy base.
For a more compact feel the classic 15.6″ GS65 comes in at less than 2 kg and features the latest GPU and CPU.
Model
GS75 Stealth
GS65 Stealth
Processor
Up to 8th Gen Intel® Core™ i7 processor
Up to 8th Gen Intel® Core™ i7 processor
Graphics
Up to GeForce RTX™ 2080 8GB GDDR6 with Max-Q Design
Up to GeForce RTX™ 2080 8GB GDDR6 with Max-Q Design
Display
17.3″ Full HD (1920×1080), 144Hz, 4-sided thin bezel, IPS-level gaming display
15.6″ Full HD (1920×1080),144 Hz, thin bezel, IPS-level gaming display
Storage
1 x M.2 SATA- SSD
2 x M.2 SSD NVMe PCIe Gen3/ SATA-SSD Combo
1 x M.2 SSD NVMe PCIe Gen3
1 x M.2 SSD NVMe PCIe Gen3/ SATA-SSD Combo
Keyboard
Per-Key RGB gaming keyboard by SteelSeries
Per-Key RGB gaming keyboard by SteelSeries
Audio
Sound by Dynaudio
ESS SABRE HiFi audio DAC technology
Nahimic 3 Audio Enhancer
Sound by Dynaudio
ESS SABRE HiFi audio DAC technology
Nahimic 3 Audio Enhancer
Dimension
396.1 x 259.5 x 18.95 mm
357.7 x 247.7 x 17.9 mm
Weight
2.25 kg
1.9 kg