The much awaited brand, Realme has finally arrived in Malaysia. Realme is a sub brand of Oppo and the company has introduced three phones to our market – Realme 2 Pro, Realme 2 and Realme C1. Among the three phones, we got the chance for an early hand on the Realme 2 Pro. As mentioned in our first impression, the unit we received is an Indonesian unit. At the time of receiving the phone, it was yet to launch in Malaysia and now we have the full review of the Realme 2 Pro.
Inside the box, there is only a wall charger and a microUSB to USB-A cable. Realme did not include the headphones in the package, however, there is a silicone transparent casing. This is especially useful if you don't want the reflective back to be smudged.
Specifications
Dressed in Black Sea, the Realme 2 Pro has a 6.3 inch IPS LCD with a FHD resolution of 2340×1080. The display has a small dewdrop style notch. With many smartphones adopting the notch, not many are appealing to the eyes unlike this one here. On first glance, the Realme 2 Pro looks like a lift off design from the Oppo F9 with very minor differences behind. It runs on a Snapdragon 660 processor and our review unit comes with 128GB of storage and 8GB of RAM. It is the top of the line Realme 2 Pro we got here. You can find two other configurations in the market; 64GB storage paired to either 4GB or 6GB of RAM.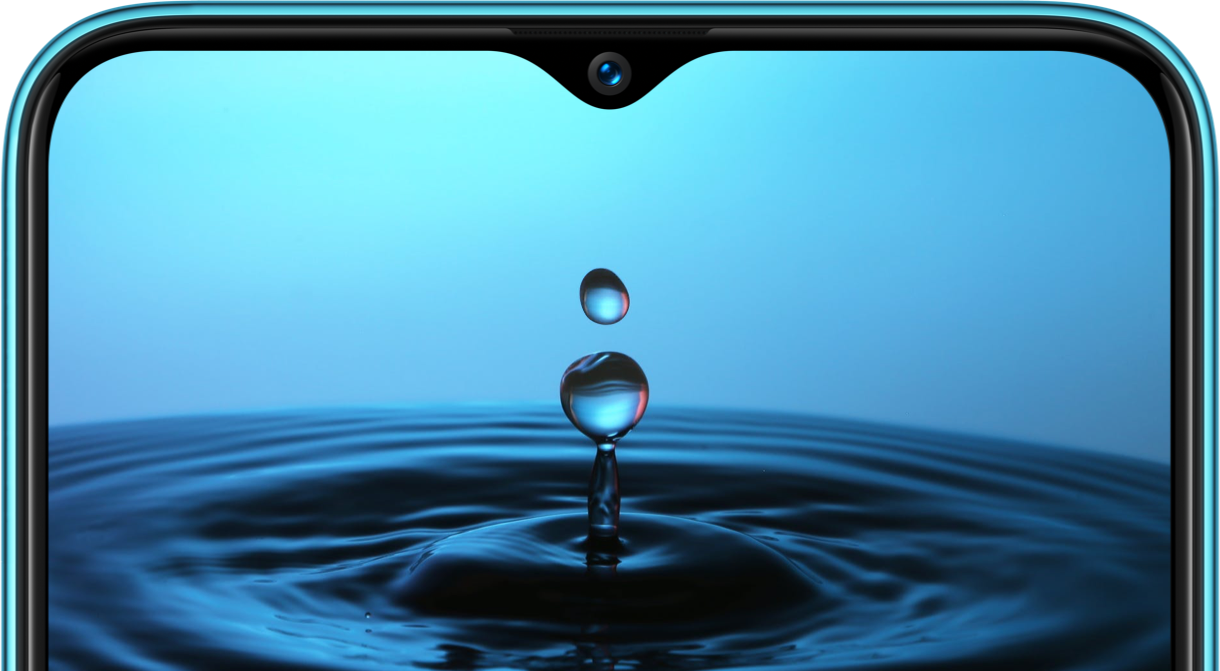 Not often do you see a phone which can house two nano-SIM cards and a MicroSD card in a single tray but this phone can do just that. As for expandable storage, it can support up to 256GB of storage. Battery in this phone is an amazing 3500 mAh which even the expensive Samsung Galaxy S9 has. It still has the outdated microUSB charging port which is still acceptable given its price tag. For those audiophiles who want to use your favourite headphones, there is still the 3.5mm headphone jack.
The camera in front is a 16MP sensor with f/2.0 aperture. As for the rear cameras, the dual camera setup with an LED flash behind are 16MP with f/1.7 aperture and 2MP with f/2.4 aperture. A rear mounted fingerprint sensor is positioned in the middle, perfect enough for your finger to rest on it comfortable to unlock the phone. The single bottom firing speaker can be found next to the microUSB port. Inside the box besides the phone is a transparent casing, a wall adapter and a microUSB cable.
Software
Realme 2 Pro comes shipped with Android 8.0 Oreo and ColorOS 5.2. If you're familiar with Oppo phones, you would know by now that the skin is indeed colourful and vibrant. However, ColorOS is definitely not my favourite launcher because it feels messy and unorthodox. A very nice inclusion is the sidebar. It's a miniature version of Samsung's Edge Panel except it doesn't have a curved display. The sidebar acts as a quick access to some of your favourite apps and tools such as screen capture and recording.
Nowadays, it is pretty common to see fingerprint sensors on smartphones but not face unlock. Realme 2 Pro has the face unlock feature which most of its competitors don't have. Unlocking the phone using face unlock works pretty good considering its price point and unlock speed.
Gaming
It may not have the greatest mobile processor but still, the RAM capacity makes up for its performance. I tried playing Asphalt 9 on this phone and the performance is pretty decent. For a mid-range phone, one can certainly play games on this phone but do not expect great performance. It is highly recommended to play games that are not heavy in terms of graphics because frames will drop when you push the phone beyond its limit.
Camera
As mentioned in the first impression, bigger sensors don't necessarily mean it performs better. It is equally important for the camera software to do its magic and this is where the Realme 2 Pro falls short. The front facing camera takes a decent picture but I am not a fan of its outcome. Images tend to appear less natural especially with the beauty mode turned on by default. There are some details which the camera manages to capture when the beauty mode is turned off.
The dual camera setup on the rear is no stranger to most mid-range phones these days. In terms of the camera's interface, there are a lot of modes ranging from Portrait mode to Expert mode. Images under low light conditions aren't the best but it appears incredibly well which is surprising. Moreover, the camera captures enough details and blurs the background pretty well too. In the images below, each photo focuses on one object and blurs out the rest of the image. Also, take a closer look on how much details the camera managed to capture.
For outdoor photography, during the day, images appear crisp and colours look more natural without any oversaturation. HDR mode does a good job without processing the image too much. The image below was taken with the HDR mode enabled. It is remarkable to see how cameras on budget phones perform these days.
Battery
The huge 3500 mAh battery can provide enough juice to last a day on heavy use. Extensive browsing, video streaming or even gaming is not a problem at all. There is still enough charge by the end of the day to stream music or Waze your way home to beat the traffic after a tiring day at work. However, no fast charge feature is present in the phone and this is expected given its price point.
Conclusion
The Realme 2 Pro is a perfect choice of phone if you're someone who is not a heavy user. This phone can handle games relatively well and take pictures that are Instagram worthy. The top of the line Realme 2 Pro retails for RM1099 and the baseline model starts from RM849. There are three colours to choose from; Blue Ocean, Black Sea and Ice Lake.
The Review
Realme 2 Pro
Beautifully designed with amazing specs at an affordable price
Review Breakdown
Value

0

Performance

0

Feature

0

Design

0

Usability

0