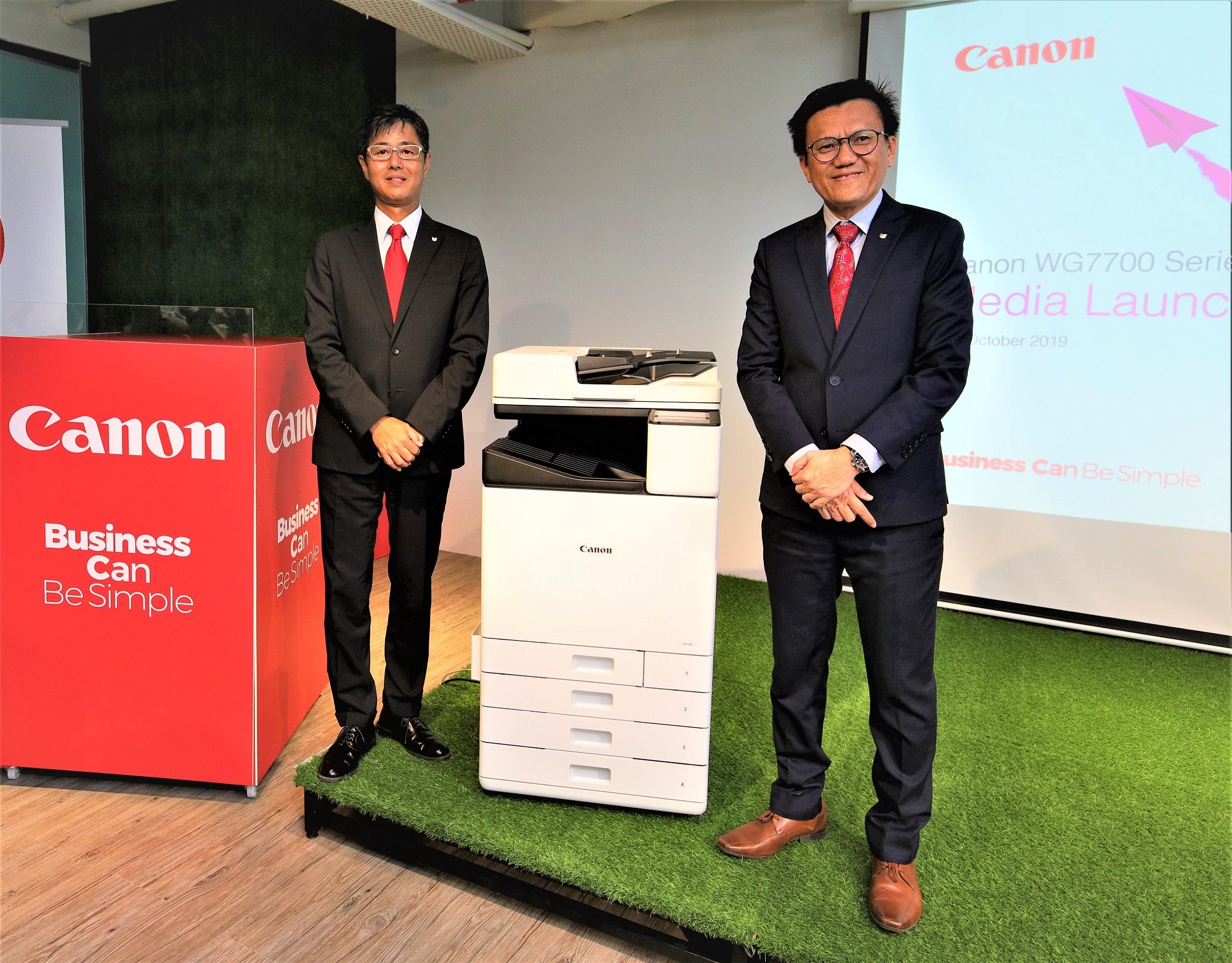 Canon Marketing Malaysia announced its first A3 Business Inkjet line head printers for small to medium-sized enterprises. The new Canon WG7740 and WG7750F business inkjet printers print at up to 80 pages per minute (ppm), producing high-quality output on plain paper with excellent water resistance so businesses can enjoy enhanced performance and productivity while keeping print costs low.
"The new Canon WG7700 series is perfect for companies and organisations that are looking for printing capabilities that support the busy, diverse workflows of today. Designed with small-to-medium sized environments in mind and Canon's intuitive inkjet technology, the printer maximises work efficiency, reduces maintenance needs and offers maximum productivity which ultimately lowers the total cost of ownership for workforces on lean resources."

Masato Yoshiie, Canon Marketing Malaysia's Senior Director of Business Imaging Solutions Centre
A new Canon FINE (Full-Photolithography Inkjet Nozzle Engineering) in-line print head sits at the heart of the WG7700 series printers, and gives rise to the incredible print performance. Spanning the entire width of paper, the print head remains stationary during printing while ultra-fast paper passes streak under the ink nozzles to generate fast print speeds.
A unique array of ink nozzle chips counter disturbances in airflow caused by paper movement at high speeds near ink nozzles, allowing stable placement of ink droplets and excellent image quality.
To prevent ink clogging, a new In-nozzle ink circulation technology maintains constant ink density within the print head and stabilises ink discharge. On top of that, high capacity ink cartridges are available so that businesses can enjoy up to 20,000 pages of uninterrupted printing for monochrome documents, and up to 16,500 pages for colour.
The WG7700 series offers easy maintenance as well. It makes use of just 5 consumables: 4 ink cartridges available in XL and XXL capacities to cater for offices with different printing demands, and a user-replaceable maintenance cartridge (MC50), simplifying supplies management to ensure minimal downtime and uninterrupted printing.
Add to that a Auto Document Feeder (Single Pass 2-Sided ADF), a Unique Paper Path, a Superior User Experience, the fact that it supports a wide range of Print Languages and Network Protocols, and you've got yourself the meanest office printer around!
If you're interested in acquiring this bad boy, drop an e-mail HERE.