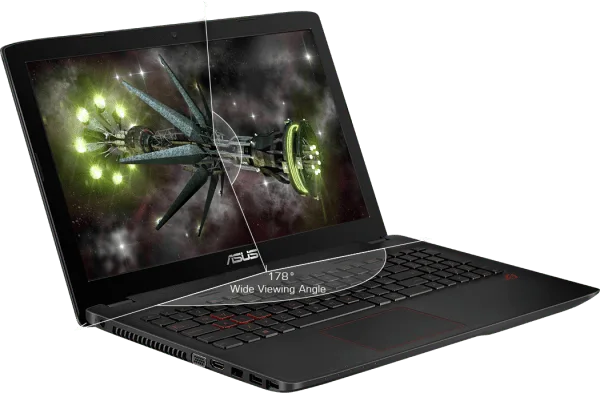 The Asus Republic of Gamers (ROG) is a well-known brand among avid PC gamers. Over the last few years, just like their competitor MSI, Asus has acquired a reputation for quality and top-notch performance under the ROG umbrella.
Perhaps, hoping to ride on this good will built up over the last few years, Asus recently introduced the GL552J laptop under the Republic of Gamers label. The quad core Intel Core i7 CPU running at 2.6GHz in the laptop is not the latest or fastest CPU from the manufacturer. Although two generations old, the Haswell architecture is still perfectly suitable for modern games.
The laptop's 15.6-inch screen is not the brightest we have seen nor one with the best contrast ratio. It could be best described as adequate for entry-level PC gaming.
Interestingly, this laptop features two GPUs. The integrated Intel HD Graphics 4600 GPU drives the Windows 2D display and video functions while all videogames are accelerated by Nvidia's discrete GeForce 950M GPU with 2GB VRAM. The Asus GL552J itself has 4GB system memory.
Although billed as a gamer's laptop, the GL552J is very much for low resolution gaming. Its real Achilles heel is the 4GB of system RAM. Most of this year's high-end games require at least 8GB to run while some games like Batman Arkham Knight recommends 12GB of RAM. This coupled with the slower memory interface on the lower clocked GPU restricts the laptop to gaming resolutions of 720P or lower. In our tests, running games at the native full HD resolution of the screen usually results in unplayable frame rates.
To put the performance numbers in perspective, in our PC.COM labs tests, the Asus GL552J is more than three times slower than the fastest gaming laptop seen so far, the MSI GT72S Dominator Pro G (see review). But of course, this Asus laptop is much smaller, quieter and cheaper.
The keyboard is another minor annoyance. Despite being aimed at gamers, the keys have a soft rubbery feel which is not the most suitable for fast PC gaming. But its backlight does make the keys very visible.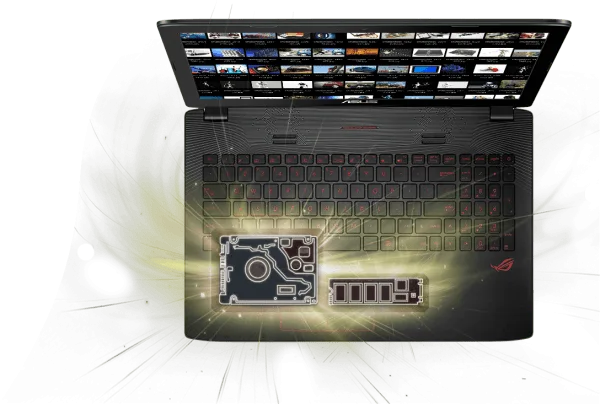 Sticking to its laptop on a budget specification, the Asus GL552J sports a modest 750GB HDD along with integrated audio from Conexant. The system ships with Windows 10 and a copy of MS Office. Along with a DVD drive, it has the usual set of ports including HDMI, VGA, LAN and multiple USB ports.
If you are a PC gamer with major budget restrictions, then you cannot go wrong with the Asus GL552J.
---
VERDICT
An entry-level laptop for budget-conscious PC gamers.
SPECS
PROCESSOR: Intel Core i7-6820HK 2.7 GHz
GPU: NVIDIA GeForce GTX 950M 2GB VRAM
RAM: 4GB
STORAGE: 750GB hard drive
DISPLAY: 15.6 inch 16:9, 1920×1080
WEIGHT: 2.6kg
PRICE: RM3499 ( at time of publish)