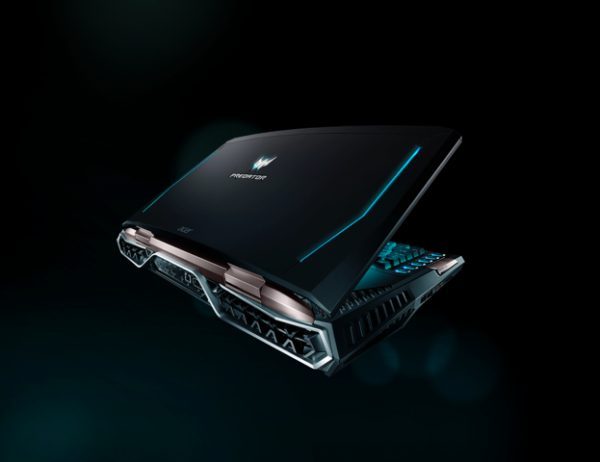 After shocking the world at IFA Berlin last year with a monster gaming notebook weighing in at over 15 pounds and being the worlds first curved screen is, many were wondering if this could be a myth but the beast is real and Acer has announced the Predator 21 X is now ready for shipment.
Coming in at a curved 21-inch, this laptop will top the industry as being the largest and innovative with a remarkably svelte concaving screen. Not just pleasing to look at and play games, the G-Sync display runs on a resolution of 2560 x 1080 with a 120Hz refresh rate coupled with eye-tracking technology from Tobii. .
True to its beastly nature, under the hood lies the raw power, a top of the range gpu GTX 1080 graphic cards in SLI and an overclockable 7th Generation Intel Core i7-7820HK processor. Supporting all this power is 64GB of DDR4-2400 memory, up to four 512GB solid state drives in RAID and a 7200 RPM hard drive of 1TB capacity. Connectors are up to date with Thunderbolt 3 and USB-C improving transfer speeds up to 40 Gbps.
While the size does accommodate for many add-ons including a full size mechanical cherry keyboards, Acer has even made consideration for safe transport and storage, as each Predator 21 X ships with a custom ultra-durable hard-shell carrying case. Price and availability in the region is still not made known but if youre interested to know in US will be $8999 and Europe will be 9999 Euro, that's close to RM45,000.