Did you go for the MSI DragonCup Gaming tournament at Low Yat concourse, if no… then you probably missed catching a world revolutionary gaming laptop that is about to change the way you play.
Drawing hordes of interest, the MSI GT72 S Pro G Dominator Tobii, Rolls Royce of desktop gaming machine is the latest from MSI, a gaming notebook like non-other, this svelte looking laptop has the ability to tracks your eye movements and accordingly align the target point on the screen. Imagine that!
MSI has carved a niche for itself in the highly energetic PC gaming industry, this space is expected to grow with over 14 million gamers in the country already involved in some sort of activity of this nature. The notebook manufacturer has been slowly capturing hordes of gamers with its GT and GS range of laptops, sales has been good according to insiders at the Malaysian office. "The GT72 Tobii is an evolutionary product, as games evolve so does gamers and the new notebook with eye-tracking technology a first of its kind in the market is giving the end users the next level of gaming" said the team lead from MSI Taiwan.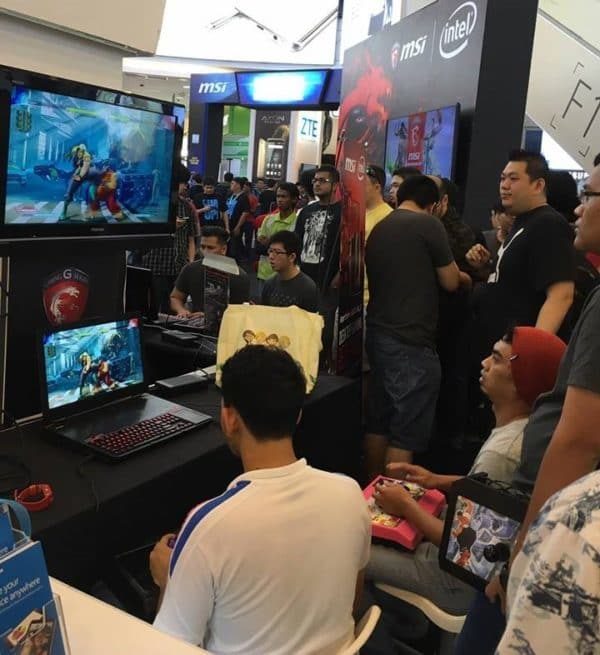 The Future Gamer
Gamers are fussy lots, not because they don't get much sleep and the copious amount of caffeine they consume evident from the filled up bin of empty Redbull cans, but because of the detailed requirement they insist on machines they use as their war arsenal. Ask any self professed professional gamer on their choice of weapon for a tournament and their eyes will light up, careful consideration on every aspect of their device has been accounted for, from the outlook to the internal peripherals. On that note, it can also be concluded that gaming devices are not just for gamers, the high performance ability of these machines are now being used in various other profession. We saw a water cooled CPU being used at retail shop to manage their heavy inventory of files and data processing and after the shop is closed the owner goes on with his DOTA game.
MSI GT72 S Dominator Pro G Tobii takes all these consideration and has made it future proof. Before we talk about the main highlight, lets delve into the first impression factor. Appearance wise its distinctively MSI with the black and red hue including the striking Red Dragon emblazoned on the cover, that glows on the dark waiting to pounce, despite sharply looking bigger with the17.3″ display, we found it to be bulky, looking more more like a desktop replacement. Lugging this around could be a chore, but no close to carrying an actual CPU…a rare sight these days, amazingly the GT72 is not that heavy either and kudos on the folks at MSI who kept the screen bezel much slimmer, unlike their competitor Acer Predator which looks more like a photo frame than a gaming screen.
On the inside you will find, a 6th Gen. Intel Core i7-6700HQ processor coupled with an eye-tearing GTX 980M 8GB GDDR5 graphics with G-SYNC feature. G-SYNC enhances the performance by synchronizing display refresh rates to the GPU in the GeForce GTX-powered system, eliminating screen tearing and minimizing display stutter and input lag. The results are instantly appearing scenes, sharper looking objects and super smooth gameplay.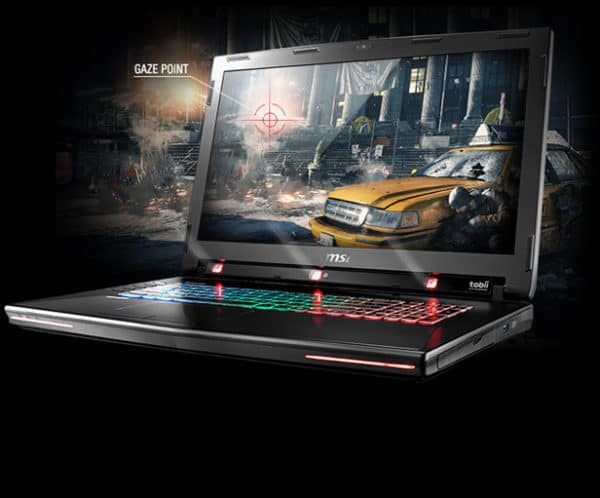 Eye On Gaming
The killer application on the GT72 S is the Tobii eye tracker, situated in between the screen and the keyboard right about where the hinges are, you will find three cameras that keeps track of your eye movement. Taking advantage of Windows 10, users can use their stare to launch applications and move the curser, we tested the technology and found the experience to be natural and intuitive. On display during the road show at Low Yat, a quick demo by popular DOTA gamer Christina Xiao Teng was enough to convince us on the possible future this feature could be adopted. A glimpse of how next level gaming is taking shape.
So for those who yet to be convinced, we suggest you head down to the nearest MSI store and take the Dominator for a test drive, and we dont mean just gamers fanatics, but for those who are curious on the eye tracker technology which has been successfully implemented on a real running model. A world first we believe.
On the contrary this RM12,999 laptop should not be seen as just a gamers expensive toy, but beneath all that circuit boards and softwares, lies a future application that's just at the cusp of a new era.